Planting a living legacy
For many of us, nature provides a comfort unlike any other as we journey through life's ups and downs. It gives us the space and time we need to process our feelings, to find a new perspective, or even just to get outside and take a few deep breaths.
Over the summer, cancer care charity Marie Curie wrote about the healing power of nature and Ray Mears and Cat White talked about their experiences of grief and the benefits of visiting the places that remind us of someone special.
The green spaces in our care are important to so many people in our community, and we love hearing your stories of how these places have become a part of your lives. In April 2020, Keith Hickman got in touch to see how we could help with his late father's wish to have his ashes scattered on the Clumps – a place that had held happy memories for him for nearly 70 years.
"Some time before my father passed away I asked him whether he had any thoughts about where he would like his ashes scattered. Without hesitation he said, "Wittenham Clumps" as he had fond memories of when he and my mother courted. In more recent years they returned to take my children to see the lambs born at Earth Trust – often after competing in the World Poohsticks Championships at Days Lock.
"After my father passed away, we approached Earth Trust to seek permission to scatter his ashes on the Clumps. They asked if we'd like to leave a lasting memorial by planting a tree in Little Wittenham Woods, and it seemed the perfect opportunity to give something back to a place that meant so much to my parents."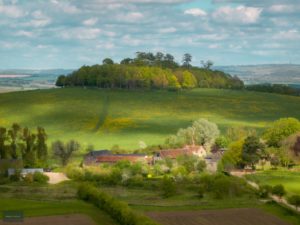 Photo: Hedley Thorne
Memorial trees at Earth Trust are planted in Little Wittenham Wood, one of our most peaceful and wildlife-rich settings. It's home to bats, dragonflies, woodland birds, and one of Britain's largest known populations of great crested newts.
Conservation is at the heart of our woodland management, and this includes using hazels as memorial trees. Hazel is native to the UK and can be coppiced every few years to open up sunny glades for butterflies and other invertebrates.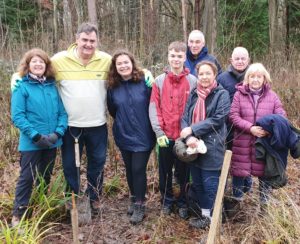 "Conditions are best for tree planting in the winter, so one damp, crisp weekend morning our close friends and family met up with the team at Earth Trust.
We walked across the Clumps to Little Wittenham Woods, and Tim, an Earth Trust ranger, talked about the various conservation projects being undertaken nearby.
He explained more about the hazel we were about to plant and its surrounding habitat.
We dug a small hole, planted the tree and spread some of my father's ashes into the soil. Afterwards we went for a memorial lunch at a local pub – something else my father always enjoyed.
When my mother passed away in 2022, we were able to plant a second tree close to the first, and we scattered the ashes of both my parents around it."
We now have a place of outstanding beauty that we can visit in warmer months to remember them both and pay our respects. Keith Hickman
A gift to future generations
The location of each memorial tree is recorded and shared with families, so that it can always be revisited.
Many take comfort in watching the tree grow each year and seeing it become an important part of the woodland habitat, knowing that their loved one is helping to build a better world for future generations.
If you'd like to plant a tree to celebrate the life of a loved one, please visit our Trees In Memory page to find out more or give us a call on 01865 407792.
We always love to hear about the connections people feel to our green spaces, please do share your story of places you love with us at [email protected]
A huge thank you to Keith for sharing his family's story.