Dedicate a bench
Dedicate a bench in memory of your loved one to celebrate their life and provide a special place for yourself and others to enjoy in their name. 
We know that the Wittenham Clumps and the surrounding landscape holds a special place in the hearts of many of our community.
We aim to honour this by providing a space for reflection, memories and comfort.
Each of our bench locations are carefully chosen to make the most of the stunning views of our beautiful landscape.
Our benches are handmade and chosen to complement the surroundings of your chosen location.
Your choice of dedication will be engraved on a plaque, serving as a fitting tribute.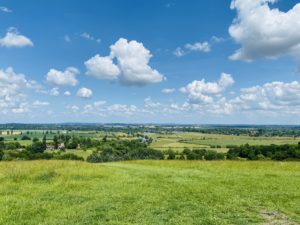 For benches placed on the iconic Wittenham Clumps – Castle Hill or Round Hill – we ask for a donation of £5,000.  For benches placed amongst the wild beauty of Little Wittenham Wood we ask for a donation of £2,500.
Crucially, your donation will help to care for the beautiful green space, which surrounds your loved ones bench, and will support Earth Trust's work, in doing so helping to build a better world for future generations in your loved ones name.
Your donation enables us to commission and take care of your bench and the surrounding landscape for a dedication period of 10 years.