Volunteer Profile: Mike Towndrow
Mike, pictured above (second left), has been volunteering for over five years and wrote this piece for The Countryman on his time as an Earth Trust volunteer…
"After 42 years as a telecoms engineer I took early retirement and my plan was to indulge in my favourite pastimes, such as woodwork and photography, and maybe volunteering, but I had no idea for what.
I became aware of Earth Trust via a flyer asking for volunteers at Abbey Fishponds local nature reserve in Abingdon. I regularly walked through the reserve and on to Thrupp Lake, another Earth Trust site; both places I frequented as a child, so the idea of helping to maintain them really appealed and I signed up.
As part of the weekly 'Thursday Land Group' we look after both reserves. Our ranger details the activities for the day; all tools and protective gear is provided and they make us aware of potential hazards before we start. Also, importantly, the Trust provides tea and biscuits for break times!
The tasks vary and could include clearing footpaths or repairing fences. We work on the former gravel pits of Thrupp Lake: clearing areas of willow and silver birch which thrive in these ash filled areas, restricting other plant life. It's slow work but all made worthwhile when, a year later, carpets of beautiful orchids and wildflowers appear that simply wouldn't have stood a chance otherwise.
We have workshop days at Earth Trust Farm too where we've made bird and bat boxes and even two tern rafts which we towed into position on the lake with a rowing boat. The Trust also provided scythe training and we now use scythes to mow grass and reedbeds. It's so enjoyable some of us formed a new 'Scything Gang'!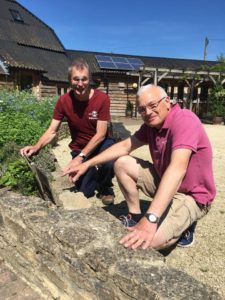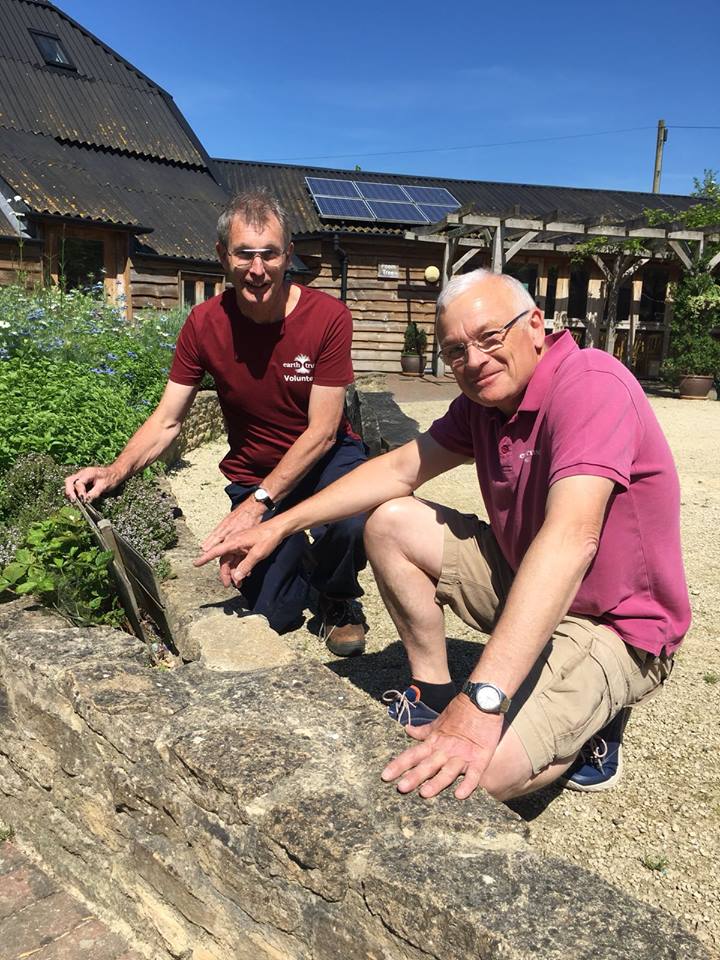 I started helping with on-site maintenance at Earth Trust Centre too, so I'm now volunteering for two days a week. Another volunteer is a trained hedge layer and he's kindly agreed to help a few of us give it a try. It's great to learn another craft and be even more useful to the Trust.
I really enjoy volunteering. Put simply it is very satisfying and rewarding being involved in maintaining local green spaces. There are opportunities to not only learn new skills, but to actually use them for real too.
I love the variety in the types of work that we do and just being outside. I can't remember a session where we haven't left the area better off than when we started. You can't help but feel good about that and you get to have that good feeling every week – no wonder we all look forward to it!
There's also the people, both employees and volunteers. The benefits of the social aspect of volunteering can't be over emphasised.  Every week I look forward to teaming up with friendly, like-minded people, coming from a wide-range of working backgrounds. There's always lots of fun and laughter as we work! On a personal level, I also like the structure that it brings to my week.  After retiring I think that's one of the few aspects of working that I missed.
Earth Trust goes to great lengths to make sure that its volunteers are never taken for granted.  The Trust frequently thanks us and emphasises that they can't do what they do without us.   It is, of course, nice to know that our contribution is appreciated, but in turn I would like to thank Earth Trust for offering so many different opportunities for volunteers."
If you're interested in joining Mike in becoming an Earth Trust volunteer, take a look at our volunteering opportunities.