The story of Earth Lab
Earth Lab is at the heart of the Earth Trust Centre, providing a stimulating, interactive and inspirational education space. It has been designed in sympathy with the surrounding landscape, augmenting the natural beauty of our stunning site and providing a seamless flow from indoor to outdoor learning areas.
Our vision was for classrooms which are 'alive', providing hands-on immersive experiences of ecosystems that fully engage our learners with the environment around them, to expand what people can learn about and discover; from natural sciences, history and ecosystems to STEM.
Construction of Earth Lab took place in 2020-21 and we welcomed our first school children in June 2021.
Earth Lab has received multiple awards and commendations, including the Most Innovative and Sustainable Initiative of the Year at the 2021 OxPropFest Awards and in 2022, winner of the the Best Sustainability category in the SPRA awards for the building's curved structured green roof.


Sustainable construction
Through the design and construction of Earth Lab, we applied the same care and philosophy as we do in managing our green spaces. We want to encourage sustainable behaviours and focused on choosing the right materials and partners to realise our design, as well as reduce manufacturing impact and construction waste. We wanted to explore close-to-market sustainable materials (which contain lower embodied carbon) whilst thinking about the long term performance of the building.
Glulam Beams
A natural alternative to steel or bricks, we chose 'glulam' beams – literally 'glued laminate' – to form the structural elements of the walls and roof.  Glulam is a strong and attractive material comprising wood layers, which can be customised to unusual shapes and designs.
All of the straight glulam beams have been made by a German glulam manufacturing firm, specialising in the mass production of standard spruce glulam. For this type of product they have very energy efficient machinery and manufacturing systems, which goes a long way to offsetting the carbon emissions of the haulage. The curved beams were manufactured by UK specialist Buckland Timber, based in Devon. The raw glulam materials are machined by hand, before fitting metalwork as necessary and sending them to site.
All of the timber used to manufacture the glulam beams in this project was sustainably grown PEFC certified spruce of Scandinavian origin. The energy used to fabricate a glulam beam is 5-6 times less than a steel or concrete beam of the same mass and length.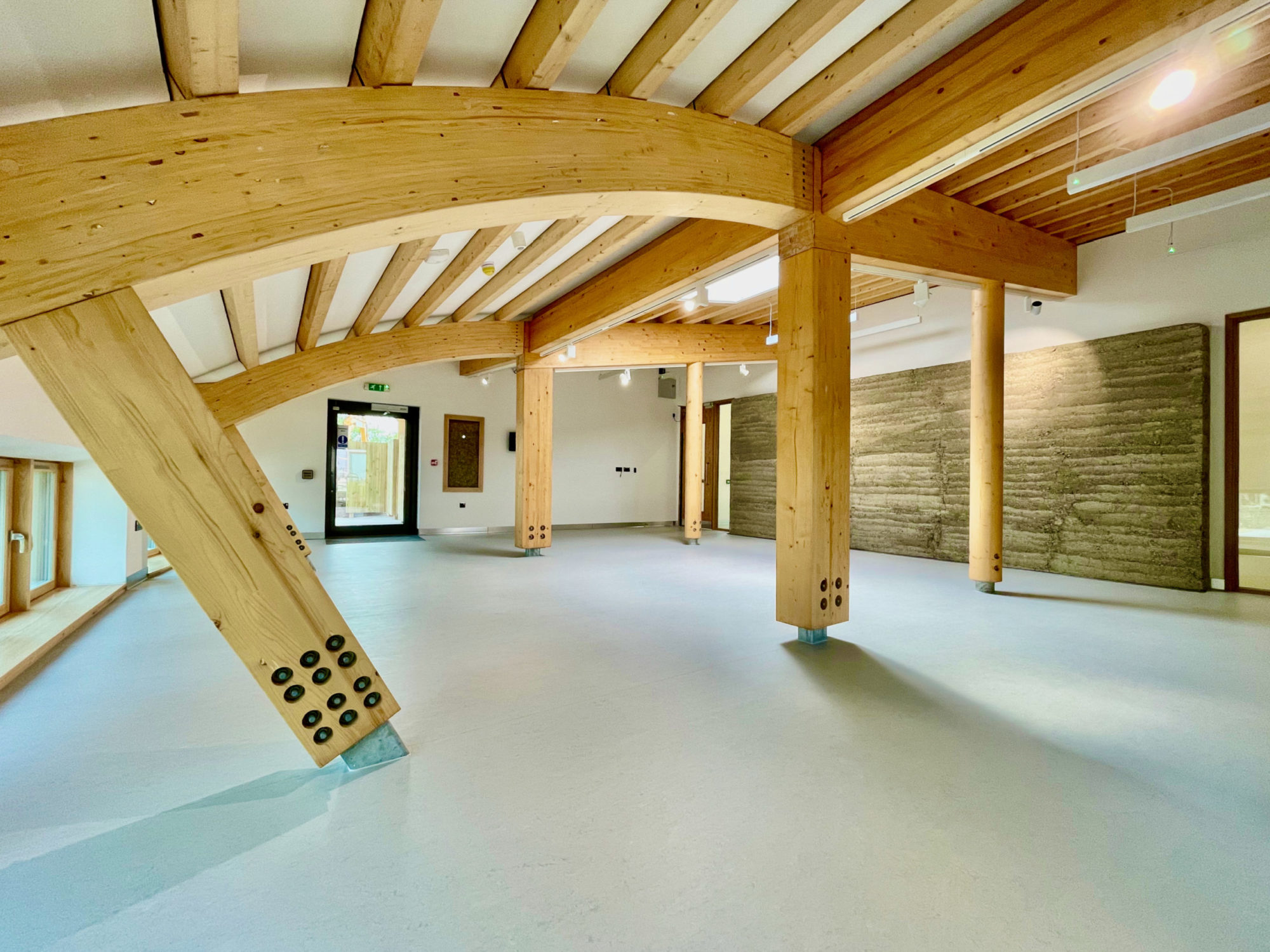 Rammed earth wall
One of the prominent features of the project is the 'rammed earth' wall that is constructed inside Earth Lab. Rammed earth walls act as a natural heat and humidity regulator, which is extremely useful for spaces with significant flows of people. Advice was been sought from rammed earth specialist Rowland Keble, who was most significantly involved in the Eden Project in Cornwall. The materials for the wall have been carefully selected from spoil arising from the reduced level and foundation excavations on the site, mixed with soil from archaeological excavations at Little Wittenham.
A small demonstration section was been erected outside the Earth Trust Centre, in order to test the suitability of the local materials. This section remains in place to give visitors an insight into the construction process.
Straw insulation
'Modcell' is a prefabricated cell that contains shredded and compacted straw for insulation. The cells are constructed from a timber frame, insulated with straw and clad to the faces with plywood. Straw has excellent thermal insulation qualities, as well as being 100% renewable material with carbon sequestering properties. The frames are constructed using FSC or PEFC timber sourced in the UK.
Waste generated during the manufacturing process is also reused. Trimmings from the straw bales can be used as animal bedding or turned into biomass fuel along with the timber off cuts and used in the manufacturer's biomass boiler. Being prefabricated, journeys to site are minimised. Modcell deliveries were made on two vehicles and lifted into final position to reduce the labour force on site along with the noise and dust typically generated from traditional construction methods.
Wildflower roof
The roof of the Earth Lab is a true green roof with the ability to support wildflowers. It offers multiple benefits including habitat creation, increasing biodiversity, water filtration and creation, and carbon capture. Species are reflective of the wildflowers native to the area, and were introduced through a combination of plug planting and seeds.
Gateway to green spaces
Earth Lab was created in 2021 under Phase 1 of the Gateway Programme, our initiative to find new ways to welcome and excite people about the natural green spaces and heritage at Earth Trust. Our plans for Phase 2, continuing our journey to improve the facilities and accessibility at Earth Trust Centre are underway throughout 2023 onwards.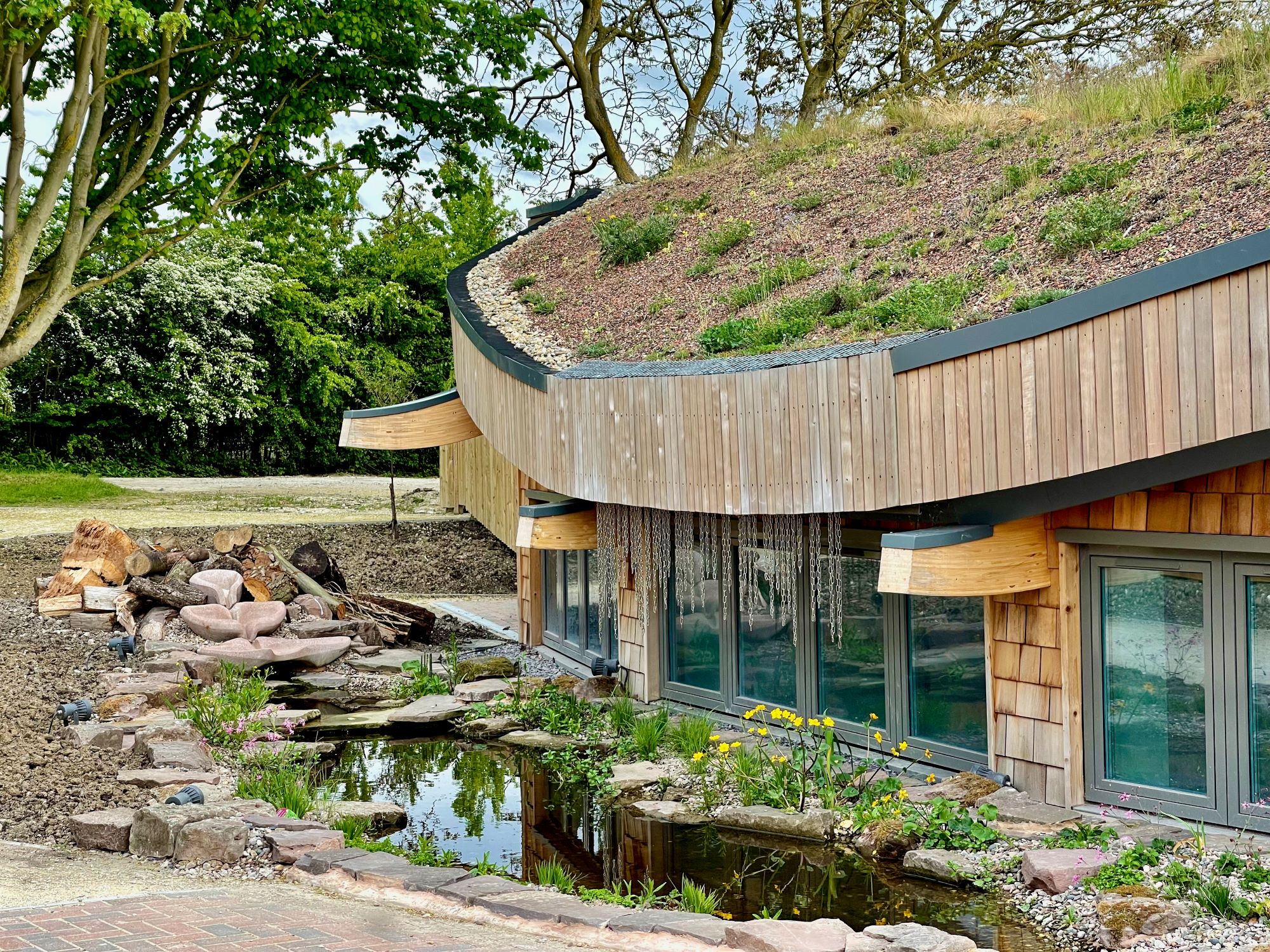 Funding partners
We are extremely grateful to have received £1.49m of funding from the government's Local Growth Fund, secured by Oxfordshire LEP, along with grants from Aspen Trust, Patsy Wood Trust, Sir Martin Wood and Lady Audrey Wood, The Banister Charitable Trust and Kathleen and David Lucas and their son Stephen.
We are also thankful for support from a number of other anonymous Trusts & Foundations, members of Earth Trust, and individual donations.
Together, they enabled us to build Earth Lab, undertake archaeological explorations and create the Innovation Hub.