There's something about the Clumps…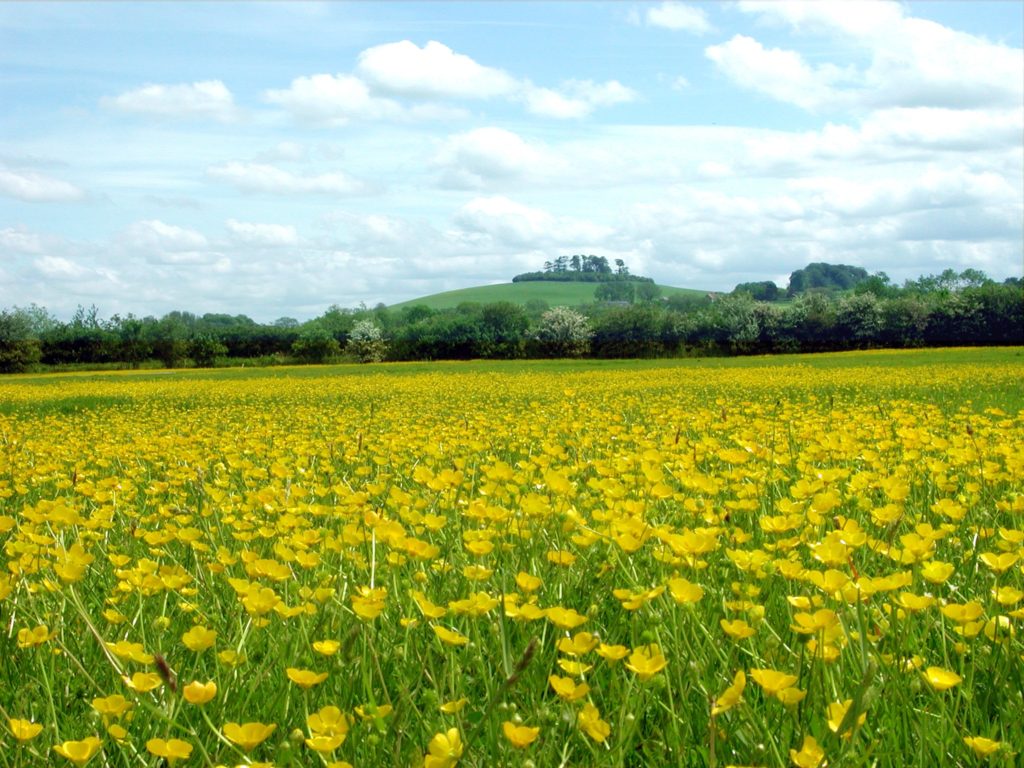 The much-loved Wittenham Clumps are one of South Oxfordshire's most iconic landmarks. Standing proudly beside the River Thames, the distinctive pair of peaks (Round Hill and Castle Hill) can be seen from miles away, rising to an impressive 120 metres above sea level. For generations, (dating back to the Iron Age), people have travelled from far and wide to behold the magic of this inimitable landscape. Made of chalk, topped with trees and surrounded by wildflower meadows, there's something indescribably special about this place which has captured the hearts of millions and provided inspiration for artists and poets alike. With now more than 150,000 visitors recorded each year, the Clumps are the most highly visited free to access green space in the region.
A short hike to the top rewards you with a stunning 360 degree panorama over the surrounding countryside, whilst numerous pathways at the foot of the hills lead off to a series of lovely walks – along the banks of the river, deep into the woods or a little further off to discover hidden gems such as the Broad Arboretum. The vast openness of the Clumps seems to put things into perspective, and provides a perfect respite from the busy world we live in.
Steep hills, steeped in history
More properly known as the Sinodun Hills, the name Wittenham Clumps refers to the two clumps of beech trees which crown both hills. These are the oldest known planted hilltop beeches in England, dating back over 300 years.
Local poet, Joseph Tubb, carved a wonderful poem in the bark of a beech tree on Castle Hill in 1845. Over the years it became impossible to decipher all but a handful of letters and, sadly, the Poem Tree eventually succumbed to the fluctuating weather conditions and fell in the 1990s. A plaque is in place nearby which allows visitors to get a sense of the passion that this Victorian vandal had for the local landscape and its history.
Wittenham Clumps was a favourite place of Paul Nash, a landscape artist who played a key role in the development of Modernism in English art. It was the magic of the Clumps which inspired him to become an artist and he painted them repeatedly during his life.
The curved ramparts of Castle Hill date back from the Iron Age. The ramparts may well have been kept free of turf historically, resulting in a white collar around the hill which would have made it even more distinct. Archaeological work has shown that it was a Bronze Age settlement as well as unearthing an array of Roman remains. Castle Hill has now been officially classified as a Scheduled Ancient Monument and, as such, Earth Trust take very special care of this area and its particular needs.
Guardians of the landscape
The different habitats on and around the hills require different types of management. The grasslands and wildflower meadows are managed through hay cutting and grazing with cattle; this regime creates the perfect conditions for wildflowers to thrive, in turn providing habitats for invertebrates, birds and other wildlife.
The clumps of trees themselves require careful management. Standing high up on the hilltop may be a majestic location, but it is also very exposed to the impacts of the elements – rainwater drains through the underlying chalk of the hills making this patch of ground very dry, particularly during a summer drought, and strong winds will often cause branches to break away and even topple some of the more vulnerable trees. Many of the beech trees are reaching the end of their lives and climate change is threatening the long-term viability of this species in this location.
To support the aesthetic 'clumps' and ensure that they remain as part of our iconic Oxfordshire landscape for many more years to come, Earth Trust have been replenishing them by planting new trees (mainly hornbeam and lime, as these have deeper roots making them more resilient species for this type of habitat) since the 1980s.
Yours to enjoy – 365 days a year

At Earth Trust, we understand the importance of visiting green spaces not only for health and wellbeing, but for feeling a connection with nature and the wider world around us. For this reason, we champion free, public access to all of our green spaces, and manage the land to enable both people and nature to thrive in balance. There is no entry fee to visit the Clumps, and the car park is also free of charge.
Walk a dog, fly a kite or take a mindful moment – however you choose to experience the Clumps, we hope you enjoy your visit.
For future generations…
You can help us look after the Wittenham Clumps by joining our team of volunteers. Earth Trust's Land Management volunteers carry out important regular maintenance tasks in, and around, the Clumps. With no experience required (all training and equipment is provided), this practical, hands-on volunteering role is a great way to connect with nature and learn more about the conservation work we do. Alternatively, without getting your hands dirty, you can make a donation, become a Friend or fundraise to support our charity and enable us to continue protecting and nurturing this very special place.