Modern biodiversity monitoring
Meet Matthew Wilcoxson, a long-standing volunteer and newest member of the biodiversity monitoring project team …
I've been wandering Wittenham Clumps since 2006, and the stunning views across Oxfordshire are still as inspirational as ever, but it was only in 2017 that I first volunteered at Earth Trust. Granted, that was mainly because my new girlfriend who worked there "strongly encouraged" me to volunteer (and who eventually became my wonderful wife).
From greeting people at lambing weekends to coppicing and planting trees, from laying straw in mazes to launching water-powered rockets, and from collecting tickets at theatrical evenings to cooking meals in the kitchen – not to mention activities such as stargazing, geology, blacksmithing and archaeology –  over the years I've enjoyed many varied roles.
Last summer I volunteered for a new role to help monitor the success of the charity's new wetland habitats.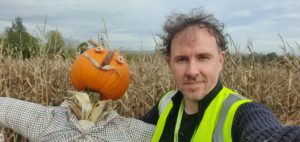 Monitoring and measuring
At the edge of the River Thames, between several of the River of Life II ponds, is a new wildlife monitoring station. It's a joint project between Earth Trust and the UK Centre for Ecology & Hydrology and is part of ongoing work to monitor the biodiversity in and around the new wetland habitats created there in 2021.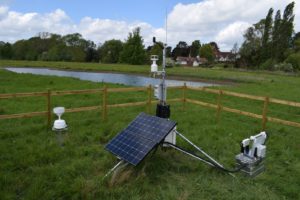 Amongst the meadow's long grass is a little fenced off area protecting a small metal structure that somewhat resembles a modern art piece.
One of the legs has several solar panels attached and the central post is covered in different types of sensors collecting information such as rainfall, wind-speed, temperature, humidity and light-levels.
Microphones record the sounds of wildlife, and scattered around the enclosed area are three cameras.
These are the wildlife-specific monitors I manage for the project team.
Camera action
Camera 1 utilises a specially designed light to attract and photograph moths. It is part of an international effort to monitor moth species around the world.
Camera 2 sits inside a (hopefully enticing) box on the ground and its aim is to capture small animals like mice, birds, and even the occasional curious fox.
Camera 3 points across the fields towards the river and captures wide views of the changing weather and seasons, and occasionally capturing birds in flight.
Capturing sound
Microphone 1 records sound our own ears might hear and is triggered at sunrise and sunset to give it the best chance of capturing birdsong.
Microphone 2 captures ultrasound, far above anything we humans can hear.
It captures much of the sound that bats produce with their echo-location, but can also be used to detect crickets and small mammals, such as mice, shrews and voles.
Species identification
Part of my task is a monthly check that the hardware is running correctly; to swap over the memory cards, as the monitors can record a lot of information, and to switch over the battery packs on those devices not yet connected to the solar cells.
Once home, the next step is to analyse all the information. We want to know which species have been detected and luckily there are applications to help do this, so the data is uploaded and the system generates lists with confidence ratings, that's a measure of how confident the application is on its identification. Earth Trust can then look at this species list and get an understanding of how the wetlands are developing.
This is a very rewarding role, I'm glad I can contribute to help the team measure the success of the new habitats and it's showing me a different area of the charity's important work.
I believe that we all need to look after our dwindling wild spaces, so if you fancy some fun doing it, try volunteering at Earth Trust!