Meet the volunteers: Liz and Mike Towndrow
Retirement often opens up a world of possibilities for individuals, allowing them to pursue their passions and engage in meaningful activities. For Liz and Mike Towndrow, who live in Abingdon, retirement marked a turning point in their lives, providing them with the time and freedom to immerse themselves in the great outdoors. It's brought them closer to nature and provided the opportunity to give back to their community. Embracing the spirit of volunteering, they found their calling with Earth Trust, connecting with the dedication to land management and conservation.
Liz and Mike share their story with us of how they discovered the joys of volunteering.
The path to volunteering
After retiring in 2014, Mike initially focused on home and garden projects while pursuing his passion for photography. It was during his local walks around Thrupp Lake and Abbey Fishponds in 2015 that he first noticed Earth Trust flyers seeking volunteers. Intrigued, Mike made a mental note to explore the opportunity further.
However, life had other plans, and it wasn't until early 2016 that the flyers crossed Mike's path again, reigniting his interest in volunteering with Earth Trust. He attended his first Thursday group session in March 2016 at Thrupp Lake, setting the stage for his transformative journey.
For Liz, retirement came later, in March 2020. Excited about joining Mike in volunteer work at Earth Trust, her plans were disrupted by the unforeseen arrival of lockdown restrictions. Despite the setback, Liz persevered, and when volunteering resumed with limitations, she was able to collaborate with Mike as they were from the same household. Together, they ventured into scything and clearing the reed beds at Abbey Fishponds in early 2021, finding solace and purpose amidst the chaos of the world.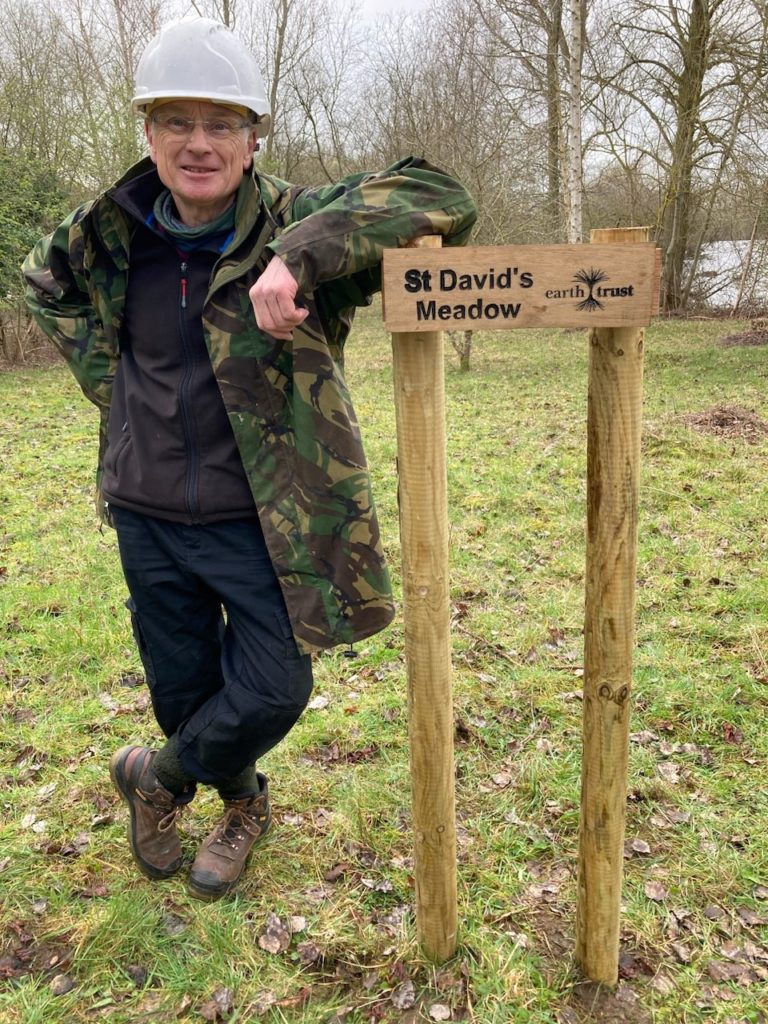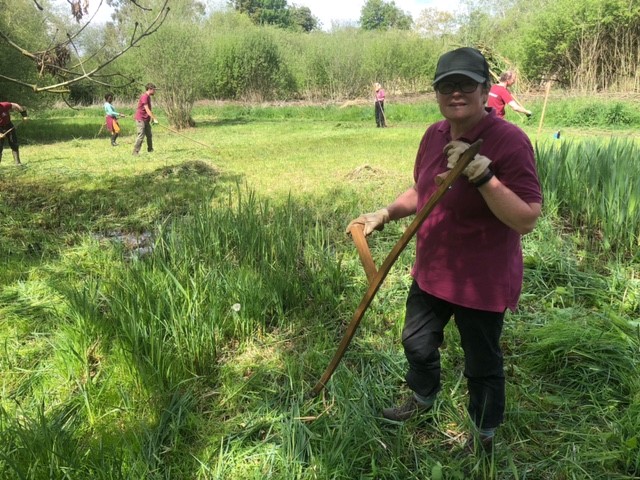 The role of dedicated volunteers
Liz and Mike actively contribute their time and skills to various Earth Trust initiatives. Mike's involvement extends beyond the Thursday Group, encompassing the Tuesday Maintenance Team, tool maintenance workshop, hedgelaying, and leading the scything gang. Liz, on the other hand, supports the Thursday Group, scything gang, and contributes to the Volunteer Facebook page – a platform for sharing experiences and insights.
The rewards of volunteering
Volunteering has brought immense fulfilment and a profound sense of achievement to Liz and Mike's lives. The opportunity to get involved has empowered them to play an active role in conserving green spaces. And volunteering offers a structured routine that many retirees miss after leaving their professional careers. Working with the charity has provided them with a purposeful way to invest their time and skills, fostering personal growth and a deep connection with nature.
Acquiring new skills
Volunteering at Earth Trust has served as a platform for continuous learning. Liz and Mike have gained numerous skills along their journey, including scything, hedgelaying, fencing, and the art of repairing tools. Earth Trust's commitment to fostering growth and providing volunteers with valuable experiences has enabled the pair to expand their knowledge and capabilities.
Inspiring others
When asked about their advice to individuals considering volunteering for Earth Trust, Liz and Mike warmly encourage people to give it a try. Having interacted with other organisations, they wholeheartedly endorse Earth Trust as the best choice.
"The management and coordination of volunteering groups and activities are exemplary, ensuring that volunteers are well-equipped and work in a safe environment. Earth Trust never fails to acknowledge and appreciate the invaluable contributions made by volunteers, emphasising the charity's genuine gratitude and recognition."
If you feel inspired to join our community of changemakers, take a look at our Volunteering pages to find out how to get involved.