Meet the volunteer foresters
With over 130 hectares of woodland in our care, each area with its own characteristics and needs, we are working to create individual management plans to ensure they thrive and will be here for generations to come.
Encompassing small pockets of farm woodland, ancient woodland on a Site of Special Scientific Interest, an historic wood on a Scheduled Monument, a nationally important research woodland and a living library arboretum, it's a huge task!
Together the woodlands promote biodiversity, provide access to nature, enable research and support local enterprise. And in order to manage them well, we need to know more about them. It's a key focus for our Forestry Ranger Tim, who has recruited a new team of volunteer foresters to help.
We caught up with two of the volunteers taking on this task – Mike Towndrow and Caroline Gregory, both experienced Earth Trust volunteers who wanted to learn something new.
Mike has a keen interest in woodwork, and felt that learning more about different tree species and how to identify them was important, while Caroline wanted to understand more about the strategy behind the land management work she is involved in.
Working in small groups, the volunteers will be assessing what tree species are present in each area, how big, and how healthy, the trees are.

This information will be collated and used to assess the woodland's impact on wildlife, its overall health, and the quality and volume of timber within it.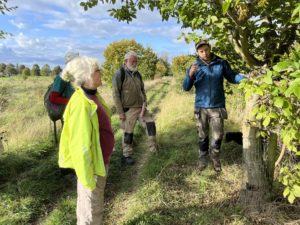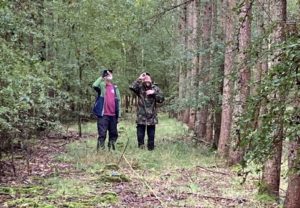 The team had their first training session in early October, where they learnt how to identify different species and how to safely lop off branches to promote good timber trees.
They also learnt how to measure the height of a tree using a clinometer, and how to ascertain the girth using a special tape measure, which shows the circumference on one side and the diameter of the trunk on the other.
"We're using special tools which are all new to us, so we share tasks around while we get to grips with them." Mike
To begin with the team is focusing on Paradise Wood which houses the largest collection of hardwood timber trials in the UK.
Planted specifically for research purposes, the trees are arranged by species, allowing the team to take sample measurements in each segment and then use these figures to estimate the total volume of timber for each tree type.
Once this has been calculated, Tim will use this information to help the woodland reach its full potential.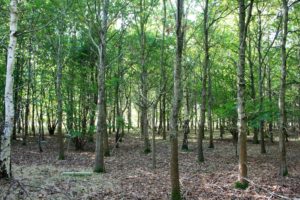 For Caroline, surveying these giants of nature has allowed her to work with others and answered a yearning to get under the skin of Earth Trust's woodlands: "I like to know why we're doing things … learning more about the forest and collecting data really augments the work I do in the Thursday Land Management volunteer group. I like the surveying and measuring side, and being able to work with other people on something that's needed."
Mike hopes that by taking on this new role he'll help us achieve our goal of mapping out and better understanding the resources we have. "Earth Trust is a good organisation to volunteer for, and all of my varying roles are really rewarding."
If you enjoy being outdoors, want to learn new skills and meet new people, you could be part of our volunteer team. Take a look at our Be Outdoors roles to find out more.