You've goat to have a dream..!
Norton and Yarrow, the artisan goat's cheese company, is an award-winning success story of Earth Trust's Farm Step Scheme. Co-founder, Rachel, shares with us her story of how it all began…
Back in 2014, my partner Fraser and I were probably similar to many people who come up with a dream of starting a new life when they're away on their summer holiday. Our dream was to start a herd of dairy goats and become cheesemakers. The only problem was, we didn't have a farm, any goats, or any knowledge of cheese-making.
What we lacked in these areas though, we made up for in determination, and we set about finding work experience, taking short courses, raiding the local library, and developing a business plan. Back then, I was a teacher and Fraser was a project manager, and so we were not from your typical farming background.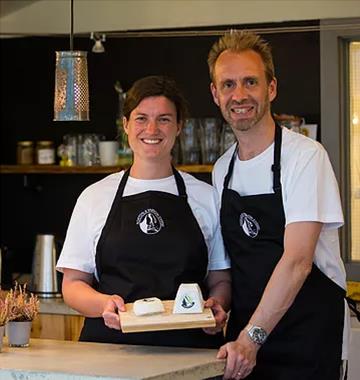 We initially hoped we could sell our house and buy or rent some farmland nearby us in south Oxfordshire, but soon found out that it is next to impossible for ordinary people in our area. Most farmland is owned by huge farms or estates and any land that does come up for sale is usually snapped up for vast sums by developers or people wanting to keep horses.
Luckily, we soon heard about Earth Trust and believed we could be a good fit for their Farm Step scheme, where promising start-up sustainable farming businesses can apply for a tenancy, especially if they are locked out of the farming sector by high land prices or lack of experience. After a very detailed, year-long process where our business plan was scrutinised and a series of logistical challenges had to be overcome, we were eventually successful. In the autumn of 2015 we signed our first tenancy agreement, and our first two goats arrived a month later.
The journey since then has been full of challenges and hard work, but it is very rewarding to reflect on how far we have come. We have built up our herd to just under 200 goats now and are pioneers in the area of pasture-based goat farming in the UK. Our cheeses have won national awards and are stocked in some of the best restaurants and cheese counters in the country – and even internationally. We have a small team to help us make the cheese and run the herd now, too.
The hard times can be very tough
The 'Beast from the East' hit when we were in the middle of kidding, freezing the pipes at the farm for nearly a week which meant we had no running water for the washing or running the milking parlour. After the storms this winter, we experienced two power cuts at the farm which meant we had to milk nearly 100 goats by hand, twice daily. When the first lockdown hit, our cheese sales halved overnight.
Through all of this, our partnership with Earth Trust has been hugely valuable. We are part of a community of other small scale tenant farmers and people who care deeply about the land and how to manage it – and produce food from it – most sustainably for the future. We love being part of Earth Trust's mission to educate the next generation about the environment and where their food comes from, and enjoy welcoming school groups and young people on work and study placements. Earth Trust have been supportive of us in trying out new ways of farming goats and in carrying out research for my masters in Sustainable Agriculture through Aberystwyth University.

Six years in, it still seems very early days for a farming business but it is really satisfying to feel like we were able to beat the odds and make a success in an industry which can be hard for outsiders to break into. We're hugely grateful to Earth Trust for helping us make this dream come true."
Earth Trust Farm Step scheme is currently full, keep an eye on social media for new opportunities.