Celebrating National Walking Month
By Earth Trust, May 2022

This May is National Walking month, so if you're planning to spend time in the Great Outdoors, you might want to check out the Earth Trust map app.
This handy tool guides you through our network of nature reserves and farmland where we have woodland, lakes, meadows, fields and places of historical importance, all waiting for you to discover.
Research has shown that physical activity (such as walking) releases chemicals in your brain that make you feel good – boosting your self-esteem, helping you concentrate as well as sleep, look and feel better. Just 20 minutes a day is all you need, but with so much to explore, why put a limit on it?
Here are some of our favourite spots to walk yourself to happiness:
Connect with the past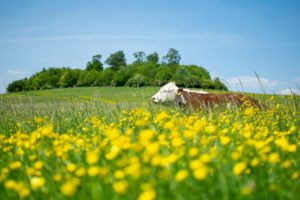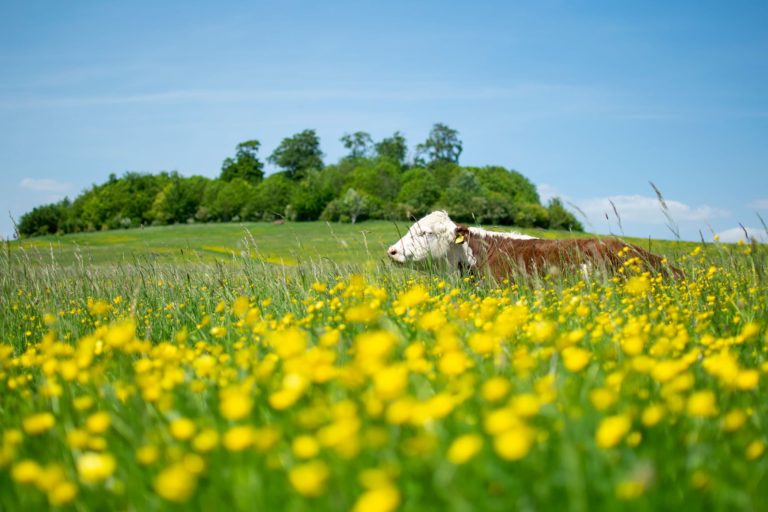 For centuries people have been visiting Wittenham Clumps to enjoy the breathtaking views. Nature shaped this land in the Ice Age and people have worked and lived here as far back as the Iron Age. The sights, sounds and smells of nature that you experience now are very similar to those that people would have been familiar with thousands of years ago.
Round Hill and Castle Hill are surrounded by wildflower-rich grasslands. We carefully manage the grasslands by grazing cattle and sheep so that beautiful wildflowers can thrive.
Miles of meadows
Mowbray Fields is one of our easiest places to access from Didcot, as it sits just a mile or so outside of the town centre – and its wildflower meadow is one of its specialities. Over the summer the meadow will come in to its own, with hundreds of flower heads swaying in the breeze, and the gentle buzz of hard-working insects all around. Filled with birdsfoot trefoil, yellow rattle, yarrow, knapweed, wild carrot, oxeye daisy, lady's bedstraw, selfheal and three types of orchids, you'll find a real mix of species here to enjoy.
And if you've got little wildlife spotters with you, they might see some smaller animals hidden in amongst the flowers, too – from grasshoppers and frogs, to mice and field voles – and even common lizards, though you'll need to be quiet and quick to spot those!
A stroll by the river

Wallingford Castle Meadows and Riverside Meadows sit on opposite sides of the Thames, but both offer a chance to escape, walk by the water, and take in the sights and sounds of the riverbank.
As well as the serenely swimming swans and striking blue flash of Kingfishers, in the last few years we've been lucky enough to have had a breeding otter on this stretch of the river, too. Although normally noctural, when females are feeding cubs they become more active in the day, as the demand for them to find food is much greater. Keep an eye out for the tell-tale trail of bubbles in the water and you could be lucky enough to spot her in the day if she breeds again this year.
Atmospheric Woodland – by day and night
Little Wittenham Woods are often visited by those looking for a walk where they can lose themselves in the greenery of the trees and enjoy some dappled shade in the summer. At this time of year you'll not only hear the red kites calling as you make your way through the woods, but you may also spot one of our regular nesting pairs – their nest site from the last five years is visible from the main path.
If you're looking for something a bit different then visiting later in the day can change the feel of the woodlands completely. As the shadows of the trees lengthen across the path and dusk starts to fall, look up and you might see bats, our only true flying mammals. Pipistrelles and Daubenton's bats follow the treeline for both cover from predators like owls as well as to feed on insects.
Immerse yourself in wildlife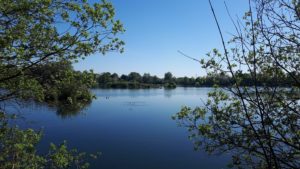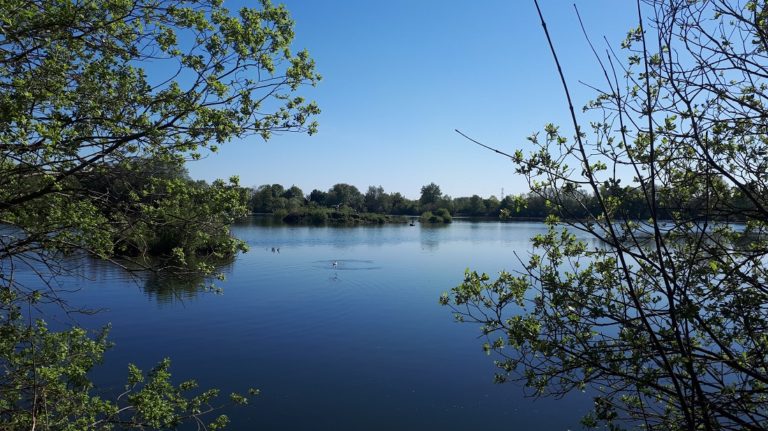 All of our green spaces support whole ecosystems, but if you want to surround yourself with bird calls, Thrupp Lake is a great place to start. Take your time as you walk round and you could be treated to the sights and sounds of our returning cuckoo, as well as swifts and swallows flying overhead. In 2017, Earth Trust volunteers installed an artificial sand martin bank, providing a place for the population here to nest – you might hear their chattery calls as they feed over the lake. For keen birders you might be able to see the breeding pair of Mediterranean gulls nesting on one of the islands in the lake – distinguishable from the black-headed gulls by their darker head (which is actually black, unlike the black gull's which is a dark brown!).
Read more about how we connect with the landscapes around us and embrace their healing powers.
Walk with others
If you'd like to join an organised group walk, then please come along to our Clumps Geology Tour Walk on 20th May. Find out more and book your space.
[button link="https://earthtrust.org.uk/blog/why-and-how-to-hedgelay/" size="medium" color="blue" lightbox="true or false"]Next blog post >[/button]
[button link="https://earthtrust.org.uk/blog/nature-everywhere-for-everyone/" size="medium" color="blue" lightbox="true or false"]< Previous blog post[/button]