Turning challenges into opportunities
by Paul Hill, Head of Environmental Land Management
It's three months since I started at Earth Trust, and it has certainly opened my eyes to the exciting challenges facing the vast and varied holding the Trust has.
However, to make things more complicated, I have joined at a time when land management and farming are also facing tremendous changes due to Brexit, climate change and the effects of the pandemic. These challenges have been on the horizon for some time, but are now actively upon us. The need to prepare our land management strategies for the road ahead is something landowners like us cannot ignore. What better time to get stuck in with helping to shape the Trust's land for a new future?
I occasionally used to walk across some of Earth Trust's places wondering how they were gearing up for these challenges, including the demise of a land subsidy known as the Basic Payment Scheme (BPS). Landowners have historically received this payment according to the number of productive hectares (grassland and crops) they own or manage, with the proviso that the land is kept "in good agricultural and environmental condition". Looking at the statistics, for many this accounts for about 60% of their land income and has been a lifeline in managing land and related enterprises similar to that of Earth Trust.
Along with the demise of BPS, we have the introduction of a revamped environmental scheme that has been set up to enhance Natural Capital (our natural green spaces), with funding paid under the umbrella of "public money for public goods". However, the money associated with this new scheme will certainly not make up for the money lost through the outgoing BPS – a challenge all farmers and landowners now face. Having said all this, I am optimistic about how these changes will shape our management of the farming operation and landscapes at Earth Trust.
In the six years prior to joining Earth Trust, I worked for the Agriculture and Horticulture Development Board, convening with farmers and landowners across the region to innovate and share learnings for viable and sustainable strategies that encourage the environment and farming. This experience of engaging in beneficial partnerships has helped me with the 500 hectares of land that Earth Trust cares for, considering it as one integrated operation. This is vitally important as all of the landscapes, enterprises and ecosystems that Earth Trust has depend on each other for their continued prosperity.
So, we now have the opportunity to improve and progress the sustainability of our land management by thinking more creatively, thus being prepared to challenge our usual thinking to develop strategies that induce ethical and exemplar financial sustainability.
As we were reminded by debate at COP26, now is the time to be innovative, accepting that an element of risk is all part of the learning curve.
"Anyone who has never made a mistake has never tried anything new." Albert Einstein
However, we can lessen this risk by making sure we don't take for granted how much agriculture relies on nature. Our crops depend on pollinators, beneficial insects and fertile, healthy soil which has a multitude of microorganisms. Indeed, according to the United Nations Environment Programme (UNEP), more than 40% of the world's economy is derived from biological resources, and, according to some economists, each year we lose a significant part of GDP because of a loss of biodiversity. Natural capital assets like soil, air and water might be free, but must be maintained and invested in. As well as being crucial for the wellbeing of humankind, they represent huge economic value.
Find out more about the mulch trial Earth Trust is taking part in.
So, for Earth Trust's farming operation it is crucial that we take the opportunity to forge closer working partnerships with these natural assets, implementing strategies that promote the natural capital, which in turn enhances yield consistency. This can be done through implementing strategies such as "land sparing". This identifies and focuses crop attention on land of high production, leaving other less productive land for natural habitats.
This methodology enhances both the farm, the wider landscape and biodiversity, allowing ecosystems to aid pollination, pest control, healthy soil structure, nutrient cycling and hydrology services.
With all this in mind, my role at Earth Trust will be focused on further developing and implementing strategies and practices to promote a mutually beneficial partnership with the wider environment and the life that it supports. I hope that by implementing this integrated methodology we can develop an ethical and opportunistic farming system that is both robust and resilient and therefore able to withstand the challenges our green spaces face in the coming year.
—
Meet Paul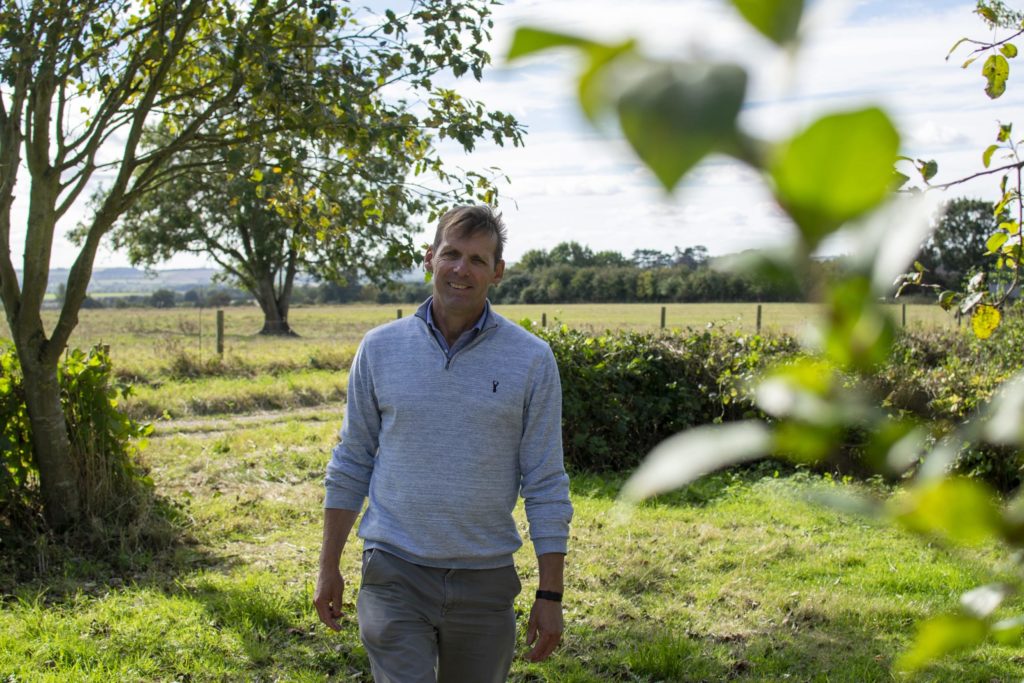 Paul joined Earth Trust in September this year as Head of Environmental Land Management. He began his career in agriculture on commercially-run arable and livestock farms, followed by another 20 years working for conservation organisations, local government and private landowners – most recently with the Agriculture and Horticulture Development Board. In these roles Paul worked to establish, manage and advise on economically-sustainable, integrated conservation and farming operations.