Tackling biodiversity loss
The UK boasts more than 70,000 known species of animals, plants, fungi and micro-organisms, but this abundance of wildlife is declining.
Biodiversity is essential for the processes that support all life on Earth. Without a wide range of animals, plants and micro-organisms, we cannot have the healthy ecosystems that we rely on to provide us with the air we breathe and the food we eat. And spending time in nature is vital to our physical and mental health, too. Simply having green spaces and trees in cities has been shown to decrease hospital admissions, reduce stress and lower blood pressure.
It's not too late to make a difference
The UK is one of the worst-ranked in the world for the poor state of its wildlife and countryside. Ours is the first generation that understands in detail the damage that human activity is causing to biodiversity but the last with the time to make a difference. And scientists are confident that we know the most effective ways to help biodiversity recover.
Creating large, protected areas is not practical for many landscapes. Instead, we need to better manage our natural resources and landscapes so that people and nature can thrive together. This is exactly what Earth Trust aims to do.
How Earth Trust is enhancing biodiversity
Earth Trust, with our team of volunteers, work all year round to create new habitats and support and nurture established ones. Our Land Management programme is designed to incorporate innovative and best-practice techniques in order to replenish and restore the green spaces we care for. Here is an overview of some of our on-going projects…
Water and wetlands
Our River of Life projects have created new wetland habitats along the banks of the River Thames, attracting birds such as golden plover, snipe and redshank. An endangered newt population enjoy a protected breeding pond in Little Wittenham Wood and find safe havens in the surrounding deadwood piles to hibernate in for the winter. The backwaters and ponds we have established are providing breeding areas for fish, frogs and toads. A high-tech biodiversity monitoring station has been capturing data and images of the wetland inhabitants, and we'll soon be sharing our first biodiversity report with its findings.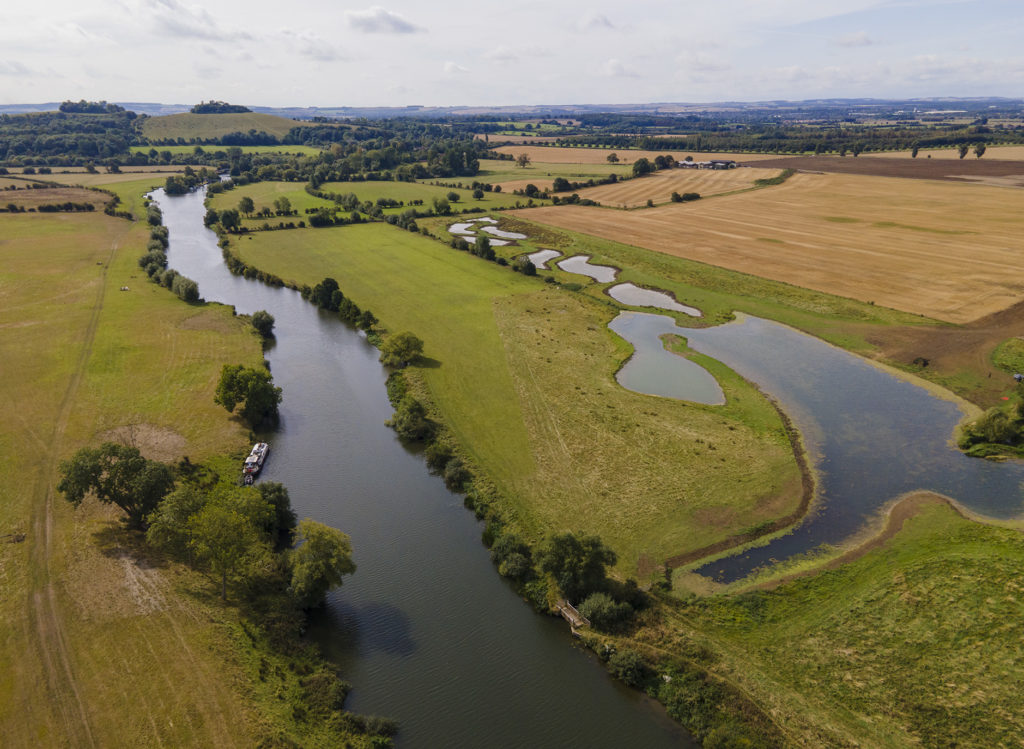 Thrupp Lake is a former gravel pit, which has been transformed from its industrial past. It's now brimming with life, providing a safe haven for many protected species. Herons, swans and kingfishers are a common sight, and cuckoos and sand martins have been spotted. During summer, the lake is home to one of the UK's largest populations of damselflies and dragonflies. While the winter months see a multitude of overwintering wetland birds. We maintain small islands and provide floating tern rafts on the lake in spring – with a speaker playing tern calls to attract them – which offers safe places to nest, away from land predators such as foxes.
Farmland
Across the Earth Trust Farm we encourage wildlife using wildflower margins, skylark plots and scattering wild bird food along the field margins and hedgerows in the winter months. We are exploring and demonstrating more sustainable models for farmed food production, whilst still protecting wildlife. Every year, in February, we take part in the Big Farmland Bird Count. This year, we observed 20 different species. Our most abundant species included skylarks and yellowhammers, Red List Birds of Conservation Concern, highlighting how important our work is to protect these vital habitats.
Woodlands
Our routine woodland management practices include traditional methods such as coppicing – letting light in to diversify the habitat – and hedgelaying alongside tree planting of native species to ensure a rich and sustainable forest. Owls and bats roost in the treetops while badgers, hedgehogs and small rodents make full use of the undergrowth.
Wildflower meadows
Providing vital support to dwindling populations of native pollinators – including butterflies, moths and bees – with nectar-rich plants, wildflower meadows are also a highly valuable resource for carbon sequestration and flood mitigation.
Our transect monitoring volunteers keep a record of the butterflies, moths, dragonflies and damselflies, building an important data set for future studies.
Our meadow restoration work on Castle Hill has resulted in the first bee orchids to be recorded there, as well as an abundance of cowslips.
Supporting the future of biodiversity
Demonstrating nature-based solutions
Our large-scale projects which are transforming the landscape are generating new evidence, data and research partnerships to demonstrate the value of nature-based solutions – not only for enhancing biodiversity, but for mitigating the broader impacts of climate change and improving river water quality. We have much to share, but also much to learn from others. Nurturing partnerships and collaborations will enable us to scale up our impact.
Educating and inspiring the now and next generations
For 40 years Earth Trust has been providing and championing accessible natural green spaces and running inspiring, award-winning programmes to help people connect with nature and the environment. Our Earth School education programme engages thousands of children and young people each year. Understanding our place in the ecosystem helps us to connect with nature and recognise our role in caring for it. Our vision is a society where accessible, engaging green spaces enable nature and people to thrive in balance.
Pioneering research to help find scientific solutions
Paradise Woods is our nationally important research woodland, providing unique data on the impacts of broad-leaved forestry on biodiversity. Earth Trust is championing a new sustainable model for our trees and forests – integrated management, which balances their value for amenity and for wildlife, as well as for economic, sustainable timber production.
Join our community of changemakers
You can get involved and help us to make the world a more biodiverse place – volunteer with Earth Trust, become a Friend or fundraise to champion access and engagement with natural green spaces for everyone. You can also use your voice to call for change from decision makers. Be part of the change!