Supporters' Day 2023
Countryfile's Tom Heap joins Earth Trust supporters in championing access and engagement with natural green space
The vital importance of championing access to green spaces for everyone is marked this week as Oxfordshire-based environmental charity Earth Trust meets with its supporter community.  The Supporters' Day event taking place on Wednesday 5th July will focus on the active role Earth Trust's growing community can play in championing green spaces by putting people at the heart of change to enable better access, engagement and nature recovery.
Special guest speakers will include BBC Countryfile's Tom Heap, Leader of South Oxfordshire District Council, David Rouane and Richard Benwell, Chief Executive of Wildlife and Countryside Link. The event includes the annual Rose Ceremony, a tradition dating back several decades during which the Chair of Oxfordshire County Council (currently Councillor Felix Bloomfield) presents a rose to Earth Trust as a peppercorn rent for public access to Wittenham Clumps – the largest freely accessible natural green space landscape in Oxfordshire.
This year's event marks the launch of a new membership scheme to connect more people to Earth Trust's purpose of inspiring people to address biodiversity, climate and wellbeing with the power of natural green spaces.
Jayne Manley, CEO explains:  "Our Supporters' Day this year is an important opportunity for us to talk about the impact of our community and what we have achieved together – from supporting disadvantaged communities to access green space, to helping children engage with the natural world around them; from reintroducing wetlands along the Thames, to generating new evidence on nature based solutions to climate change – we're working tirelessly to enable nature and people to thrive in balance, while using this work to inspire change at a national level too.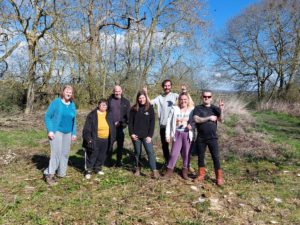 "We are delighted to have such a fantastic variety of different voices and perspectives joining us on Wednesday, so that we can explore ideas for our future direction – and recognise and celebrate this wonderful community and all the many different ways that we work together.
"Earth Trust needs support from our community to transform more lives. That's why we are launching a brand new membership scheme, so that we can become an even stronger voice for championing green spaces for everyone."
Tom Heap says: "We all have an active role to play in enabling change and recovering what we have lost of our nature. We have seen significant progress and change in the global, national and regional nature recovery policy sphere. But little on what this means locally for people and community engagement with their places.

It is vital that we embed social engagement of people with nature into our futures – ensuring that nature recovery is also actively building nature in to people's lives. I'm delighted to be joining the Earth Trust community as they discuss what more can be done."
With Oxfordshire being one of most rapidly developing counties in the UK, Earth Trust is positioned at the sharp edge of creating and managing spaces that enable both people and nature to thrive in balance.
In addition to the iconic Wittenham Clumps (500 hectares of woodland, farmland, wildflower meadows and wetlands), the Trust also cares for a growing number of smaller community reserves – special places for both nature and people within urban areas and towns. These places receive 200,000 plus visits a year.
Earth Trust feels passionate about the ability of people power to address the triple threat we currently face as a society in terms of climate change, loss of biodiversity, and health and equality. It has never been more critical to provide access to green space and to engage people deeply with nature – both for their own wellbeing and to inspire action to protect the natural world for our future.