At Earth Trust we have been running visits for schools for over 35 years. We have a small but dedicated team of Earth School Tutors who will work with your students to offer them a unique day of wonder, discovery and learning, all set in the beautiful location of the Earth Trust Farm, including Wittenham Clumps.
Our location and environment are our best teaching tools and every workshop we run is based in the outdoors. We are lucky to boast the site of an Iron Age hill fort, SSSI woodland, grassland and river Thames all within walking distance of our main site.
Most of our workshops are a full day (10am-2.30pm) but some can be either run as half days or combined together to create a full day of fun and learning. We offer sessions throughout the year and tailor activities to the seasons. Popular workshops include team-building enrichment sessions for new Year 7s, learning about farming with a visit to the lambing sheds in spring, and celebrating the end of the school year with wild art and bushcraft skills in summer.
Visiting Us
This section includes important information about your visit to the Earth Trust such as what to bring, how to get here and how much it will cost.
Please see our current Terms and Conditions for Earth School bookings and visits.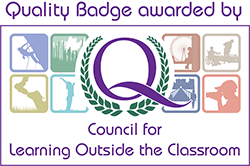 How you can help
You can help Earth Trust to provide school visit days and to inspire young people through outdoor learning by making a one off donation or becoming an Earth Trust Friend.
With thanks to
We are grateful to all our donors, including the following for their support for Earth School:
Alpkit Foundation
DS Smith Charitable Foundation
The William Dean Countryside and Educational Trust