New equipment supports health & wellbeing for visitors
Thanks to funding from North Wessex Downs AONB, Earth Trust Centre and the car park of the neighbouring Wittenham Clumps in Little Wittenham, are now kitted out with a range of new outdoor equipment, offering a visitor experience that has the potential to save lives.
Defibrillators have been installed in the car parks at Earth Trust Centre and Wittenham Clumps. These life-saving devices are listed on the national registry at defibfinder.uk as well as being registered on British Heart Foundation's Defibrillator network.  Used in addition to CPR, AEDs can help bystanders to save the life of someone suffering cardiac arrest. Research has shown that deploying a defibrillator within 3–5 minutes of collapse can produce survival rates as high as 50–70%.
At Earth Trust Centre, the outdoor toilets have been completely refurbished and a bike rack and bike fixing station have been installed, benefiting both visitors and users of our newly opened desk hire space.  More than 100,000 people visit the Clumps every year, and we're encouraging more people to arrive by cycling. With our new bike rack and fixing station, you can securely park up your bike and pump up your tyres  while exploring this spectacular green space.
These improvements were made possible thanks to funding received from North Wessex Downs AONB 'Access for All' grant scheme. We spoke to Katharine Cook from North Wessex Downs AONB: "Installing this kind of small but potentially life-saving infrastructure to give the public the best possible experience when visiting Areas of Outstanding Natural Beauty is exactly what the 'Access for All' scheme is all about. It is a pleasure to be working with Earth Trust on these alongside other meaningful activities such as their recent Lambing Festival and Regenerative Agriculture workshops for innovative farmers and landowners."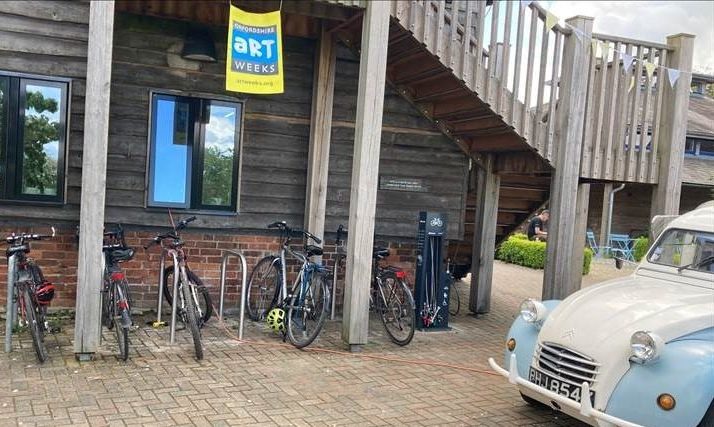 "What could be better for your wellbeing and physical health than commuting by bike to such an idyllic location?"
Dave Lewis, Director of Operation at Earth Trust shared: "What could be better for your wellbeing and physical health than commuting by bike to such an idyllic location? As part of our drive to provide free to access green spaces for all, these improvements at the Centre and at the Wittenham Clumps car park, our flagship green space, feel like a really promising development for us. We hope the public will enjoy making use of the resources now on offer."