Embrace the flavours of autumn
Seasonal Recipe Ideas
The autumn harvest is the best time to enjoy wholesome, tasty, fresh produce, as we appreciate and celebrate all that the earth provides. It's warming, comfort food that gives your soul a hug!
Here are some of our favourite, seasonal recipe ideas to enjoy on a cosy night in:
Minimise your food miles and maximise the taste!
Everything we buy has a carbon footprint, either in the way it is produced or in how it is transported, so buying from local producers, and only buying what you need so that we minimise food waste, is certainly a better option.
More and more people are looking to eat more sustainably and the Vegetarian Society have produced a handy guide to seasonal produce grown in the UK so you can easily find what to buy, when. Seasonal produce is fresher, tastier and more nutritious as it's not full of preservatives to help improve its shelf life.
For more inspiration, Good Food Oxfordshire have a fabulous Good Food Cooking Toolkit to help you get creative in the kitchen and minimise waste.
Autumn Veg Casserole (serves 4-6)
A comforting casserole that brings together flavours drawn from the earth, with a taste of autumn in every bite. A super simple, convenient dish that can be prepared in advance, offering a hearty meal that's perfect for cooler days.
1 large white onion/or a handful of shallots, sliced
1 trimmed leek, sliced
3-4 carrots, roughly chopped
1/2 a swede, chopped into bite-sized chunks
1 stick of celery, thinly sliced
8 baby potatoes
12 button mushrooms
2 cloves of garlic, crushed
A good pinch of salt & pepper
A knob of butter or tablespoon of olive oil
1.5 litres of vegetable stock
A couple of sprigs of thyme
Optional – 1 tin of chickpeas, or chunks of soya or meat
Cornflour (to thicken)
Put all of the ingredients into a casserole dish and cook in the oven at 180C with a lid on, for 1 to 1 and a half hours (if using meat, it may need longer until the meat is cooked through). Can also be cooked in a slow cooker if you have one. Mix a tablespoon of cornflour with water and carefully stir into the casserole to thicken the gravy. Put it back in the oven for another 10 mins, then serve with a side of kale and a jacket potato.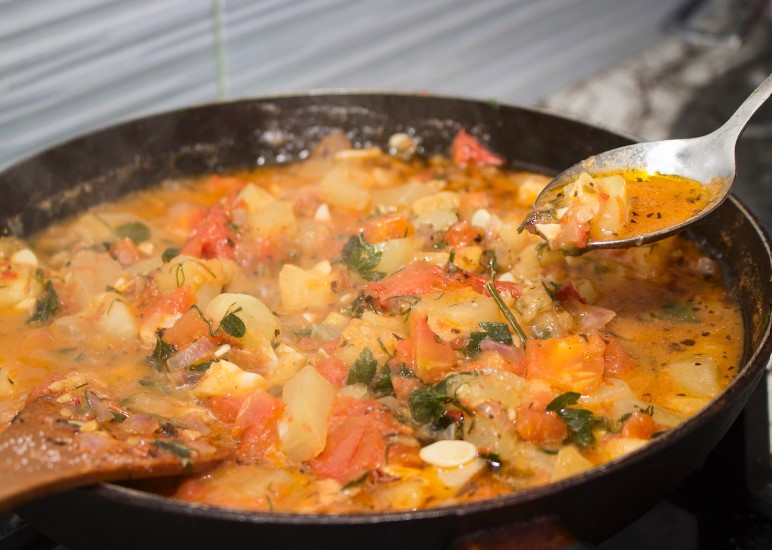 Bangers and Mash (serves 4)
Sausages and mashed potatoes are a match made in heaven! For an added seasonal twist, try adding apple slices to your gravy and experiment with adding other root vegetables (like parsnip) to your mash.
You'll need 8 of your favourite flavoured sausages – there's a great range of meat-free alternatives to choose from
For the mash:
600g Maris Piper or King Edward potatoes, peeled and chopped in half
A splash of milk (or milk alternative)
A tablespoon of butter/dairy free spread
A pinch of salt and pepper
For the gravy:
1 onion, sliced
Olive oil (for frying)
2 garlic cloves
1 carrot, cut into chunks
1 tsp marmite
1 tbsp tomato puree
1.5 litre vegetable stock
1 tbsp cornflour
Fry your sausages in a pan or cook under the grill.
Place your potatoes in a large pan of cold water, add a pinch of salt, then bring to the boil and cook gently, with the lid on, for about 20 minutes.
Meanwhile, gently fry the onion slices in a frying pan with a little olive oil. Put the carrot and garlic into a food blender and blitz until tiny pieces, then add this to the pan. Continue to fry for 4-5 mins, then pour in the stock and stir in the marmite and tomato puree. Leave to simmer. When you're almost ready to serve, mix the cornflour with a little water and stir into the gravy until you reached the desired consistency.
Once the potatoes are cooked, drain in a colander then return them to the warm pan. Add the butter, milk and a good pinch of ground black pepper and mash vigourously until creamy smooth.
Serve with a good portion of steamed vegetables and tuck in.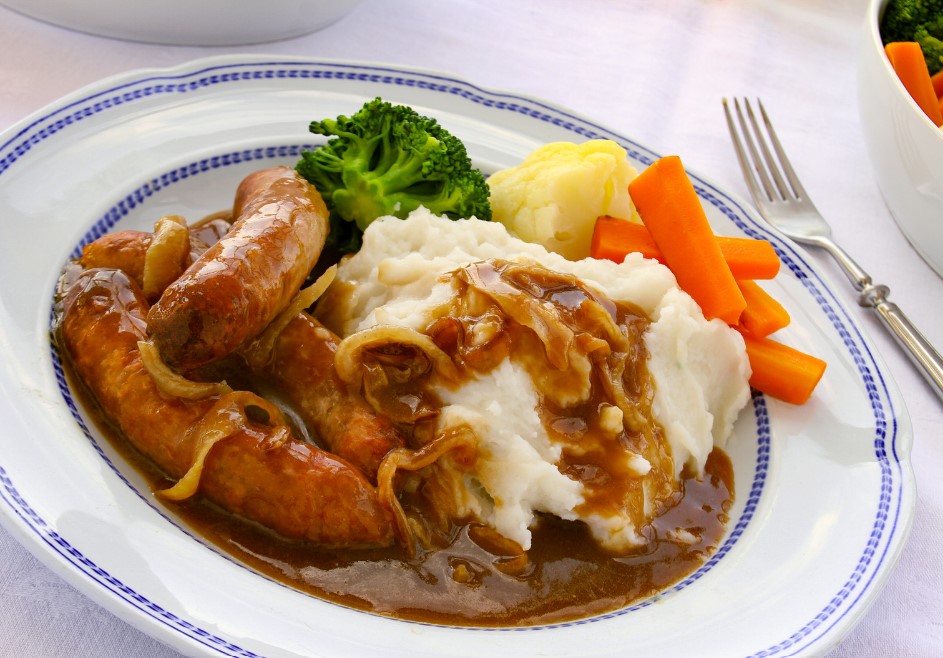 Squash and Thyme Risotto (serves 4-6)
Simple, yet satisfying. A hot bowl of risotto, served with a good chunk of crusty bread, is supper sorted.
1 large white onion, chopped
12oz Arborio rice
1.5 litres vegetable stock
1/4 glass of dry white wine, or 1 tablespoon lemon juice and 3 tablespoons water
1 squash, peeled, roasted and cut into bite-sized chunks
A sprig of fresh thyme
Olive oil (for frying)
Knob of butter
Salt &  pepper
Heat the stock in a small saucepan (or a jug in the microwave) until it comes to a low simmer. Finely dice the onion and fry in a little olive oil for 5-10 minutes over a medium heat. Add the garlic, rice and season with salt and pepper. Stir well and continue to fry for 2-3 minutes until the rice is nicely coated in the oil.
Add the white wine (or lemon juice alternative) and slowly stir, allowing the rice to absorb the wine. Once the wine is almost completely absorbed, reduce the heat for the risotto pan and add the vegetable stock, a little at a time, stirring frequently. Throw in the thyme sprigs. Keep simmering over a low heat for 20 minutes until the stock has been absorbed then add a knob of butter and stir well. (You may want to adjust the consistency by adding a little more water if it's too dry).
Add the squash chunks to the pan and stir through. Serve immediately, sprinkling with a little parmesan, and enjoy!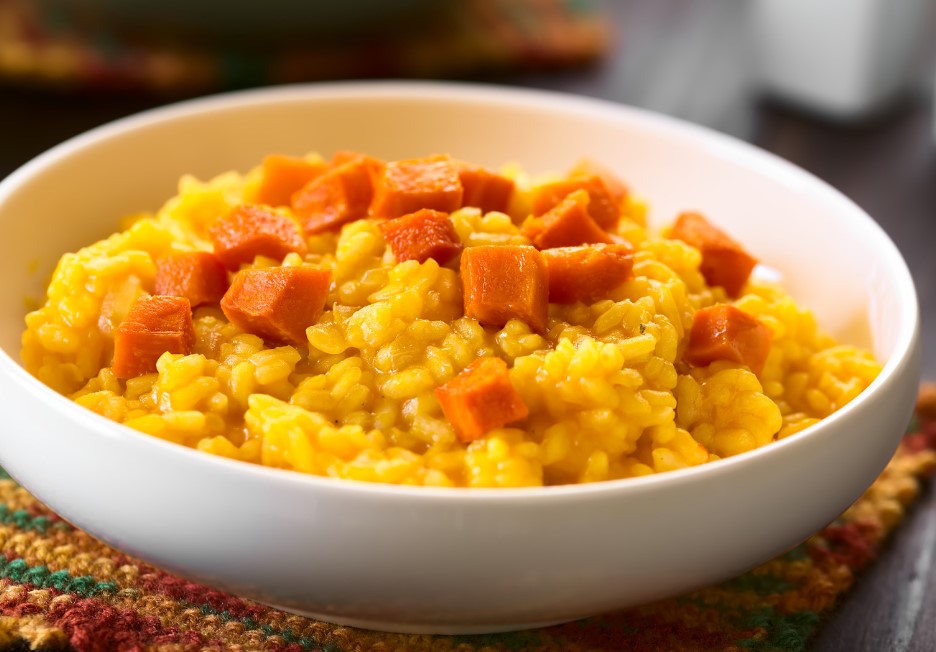 Pumpkin Spiced Cookies (makes 12)
As autumn is pumpkin season, enjoy these crumbly, spiced cookies with a cup of hot chocolate as you curl up in front of a good movie.
75ml sunflower oil
3oz caster sugar
3oz light muscovado sugar
1 tsp vanilla extract
1 orange, zested
1 oz cooked pumpkin flesh
6oz plain flour
2oz jumbo oats
½ tsp baking powder
½ tsp bicarbonate of soda
1 tsp ground cinnamon
1 tsp ground mixed spice
Heat the oven to 190C and line two baking trays with baking parchment. Whisk the oil together with all the sugar, the vanilla extract and 2 tbsp water in a large bowl until smooth, then stir in the orange zest.
In a separate bowl, combine the flour, oats, baking powder, bicarb, cinnamon and 1/2 tsp salt. Add the dry ingredients to the wet, and mix together until you have a thick dough.
Using your hands, roll the dough into 12 evenly sized balls, and arrange them on the baking trays with a good space between them. Flatten them slightly with your palm, then bake in the oven for 15 mins until golden. Leave to cool (if you can resist eating them!) for 15 mins on the trays before transferring to a wire rack to cool completely. If you don't eat them all, they will keep in an airtight container for up to three days.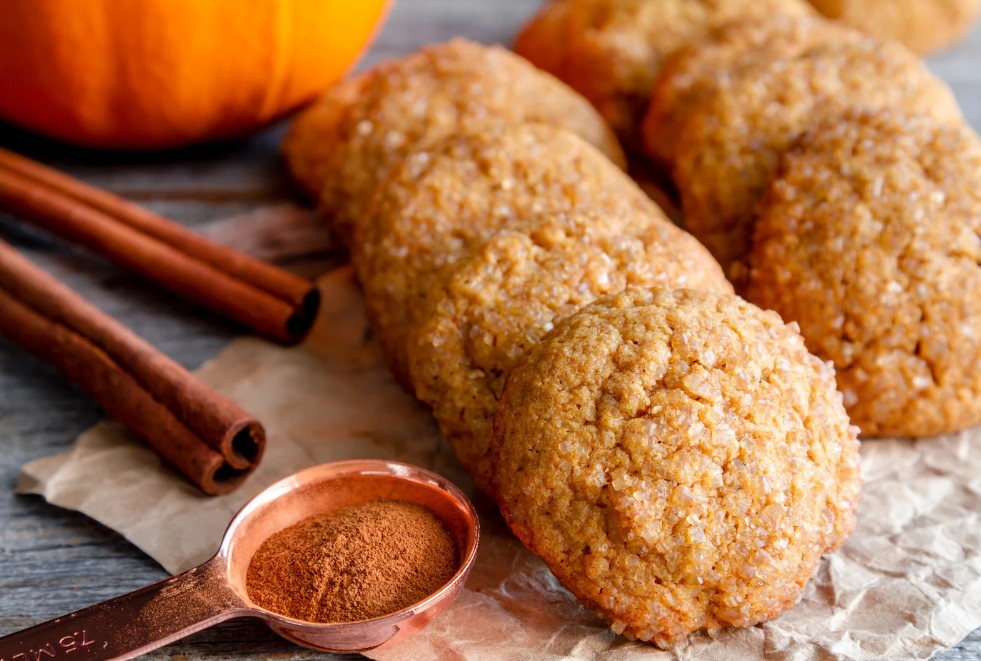 Blackberry and apple crumble (serves 6-8)
This classic British dessert is a delightful way to enjoy the autumn harvest. A layer of cooked fruit topped with a sweet, crunchy crumble. For indulgence, serve with custard or ice cream.
For the filling:
900g cooking apples (bramley), peeled, cored and sliced
A good handful of blackberries
3oz soft brown sugar
1 tsp ground ginger
For the crumble topping:
8oz plain flour
3oz butter
3-4oz soft brown sugar according to taste
A small handful of oats
Preheat the oven to 180 degrees C. Put the apples and blackberries in a medium saucepan along with the sugar and ginger and a little water. Place a lid on the pan and cook over a low heat for 15 minutes until chunky (but not mushy). Drain off half the juice, then spoon into a pie dish.
Put the flour into a large bowl then add the butter and rub it into the flour with your fingertips. When it looks like breadcrumbs, add the sugar and oats and stir through until it's evenly mixed.
Sprinkle the crumble topping over the fruit in the pie dish, taking care not to press it down. Bake in the oven for 30-40 minutes and serve while hot. Delicious with custard, cream, or ice-cream (but, surely, not all three?!)