A taste of spring – seasonal recipe ideas
March, April, and May are some of the best months of the year for fresh produce, and we want to celebrate them.
Bright-coloured roots dug from the ground, and tasty lush leaves, stems and stalks. So much to love!
Enjoy the flavours of spring with these simple, seasonal recipe ideas:
Minimise your food miles and maximise the taste!
Everything we buy has a carbon footprint, either in the way it is produced or in how it is transported, so buying from local producers, and only buying what you need so that we minimise food waste, is certainly a better option.
More and more people are looking to eat more sustainably and the Vegetarian Society have produced a handy guide to seasonal produce grown in the UK so you can easily find what to buy, when. Seasonal produce is fresher, tastier and more nutritious as it's not full of preservatives to help improve its shelf life.
For more inspiration, visit Good Food Oxfordshire's website and take a look at their fabulous Good Food Cooking Toolkit to help you get creative in the kitchen and minimise waste.
Bubble and Squeak (serves 3-4)
Perfect for using up leftovers for a quick and easy, comforting meal. You can add in more veg – such as carrots or peas if you like, or serve it with something extra (crispy bacon, a sprinkle of grated cheese, a side of baked beans, or lashings of gravy).
400g cooked/mashed potatoes
250g cooked cabbage
Salt & pepper
Butter & olive oil (for frying)
In a large bowl, mix the mashed potato (or roughly break up the cooked potatoes with a fork) with the cooked cabbage, and a pinch of salt and pepper. Divide the mixture into small burger-sized patties.
Melt butter in a pan with a little oil and fry for 5 minutes on each side on a medium heat, until warmed through, golden brown and crispy.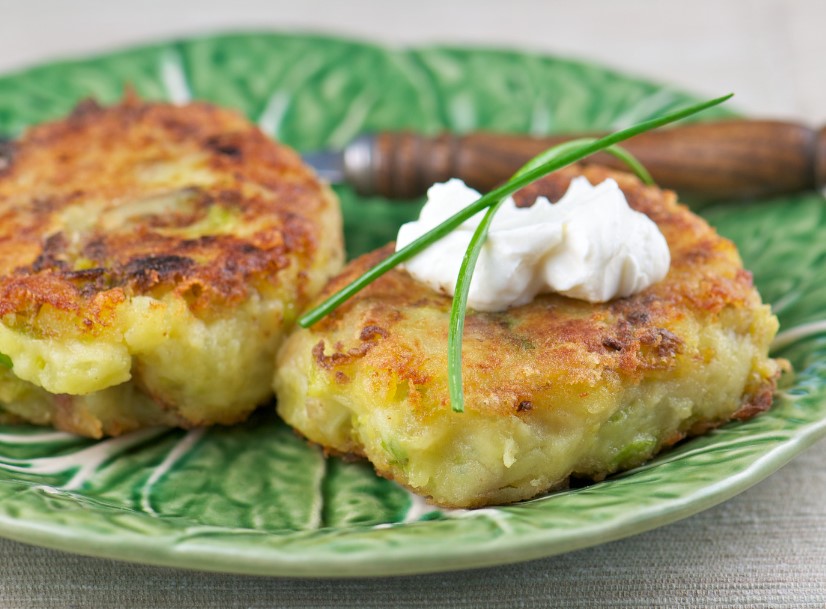 Leek and potato soup (serves 6-8)
A thick and warming soup – comfort in a bowl
40g butter
500g leeks, thinly sliced
2 onions, finely chopped
600g Maris Piper or King Edward potatoes, chopped into bite sized chunks
2 garlic cloves, crushed
1.5 litre vegetable stock
Crusty bread (to serve)
Melt the butter in a large pan over a medium heat. Add the leeks, onions and potatoes with a pinch of salt and pepper, then cook gently, with the lid on, for about 20 minutes.
Stir every now and again to make sure the vegetables aren't sticking to the bottom of the pan. Add the garlic and stir through for another minute. Leave as a chunky soup or blend to the consistency you prefer. Add a little boiling water if too thick.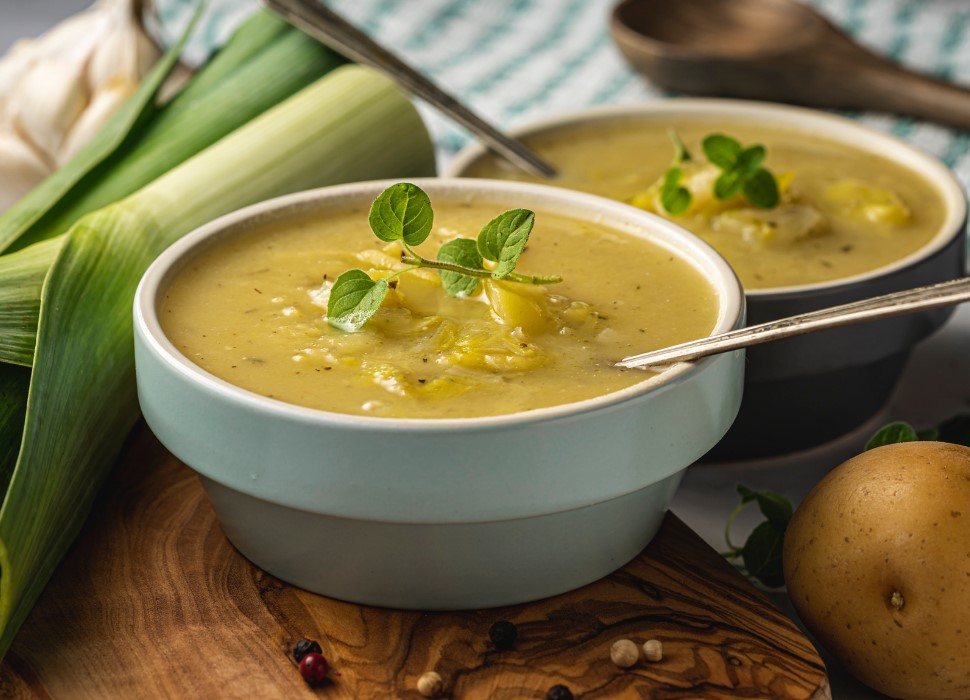 Asparagus Risotto (serves 4-6)
A classic, fresh taste of spring.
1.5 litres vegetable stock
Butter
Salt and pepper
1 large white onion, chopped
12oz Arborio rice
1/4 glass of dry white wine, or 1 tablespoon lemon juice and 3 tablespoons water
8oz asparagus, trimmed, tips cut off, and the spears cut into thin slices
(Optional to serve) freshly grated Parmesan cheese (or vegan alternative)
Heat the stock in a small saucepan (or a jug in the microwave) until it comes to a low simmer. Finely dice the onion and fry in a little olive oil for 5-10 minutes over a medium heat. Add the garlic, rice and season with salt and pepper. Stir well and continue to fry for 2-3 minutes until the rice is nicely coated in the oil.
Add the white wine (or lemon juice alternative) and slowly stir, allowing the rice to absorb the wine. Once the wine is almost completely absorbed, reduce the heat for the risotto pan and add the vegetable stock, a little at a time, stirring frequently. Keep simmering over a low heat for 20 minutes until the stock has been absorbed then add a knob of butter and stir well. (You may want to adjust the consistency by adding a little more water if it's too dry).
Add the asparagus to the pan and stir through. Keep the pan on the heat for 2 minutes until the asparagus are just cooked through. Serve immediately, sprinkling with a little parmesan, and enjoy!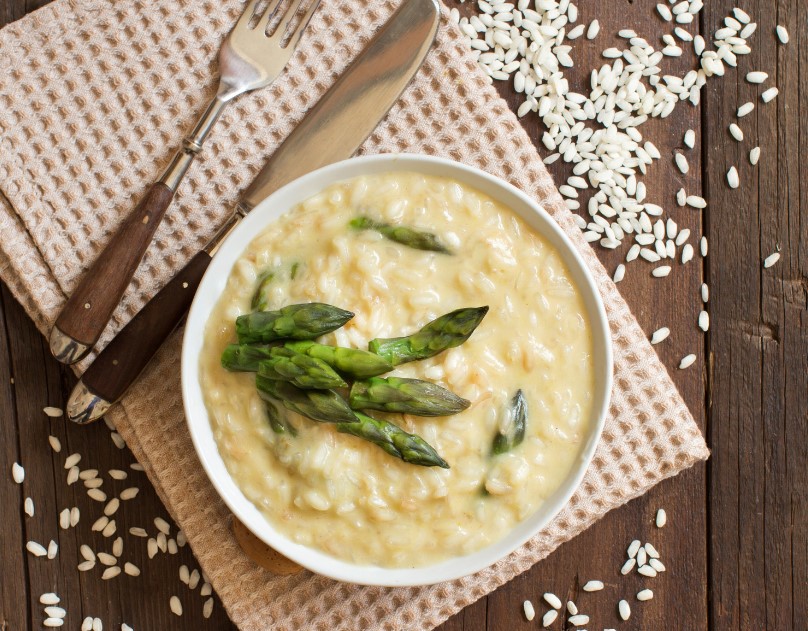 Spring veg stir fry (serves 4)
A super quick and easy meal, bursting with flavour.
Mushrooms, thinly sliced
Spring onions, thinly sliced
Cabbage or spring greens, shredded
1 head of broccoli, broken into small florets
1 large carrots, peeled, quartered and thinly sliced
1 handful of frozen peas
1 red or yellow pepper, thinly sliced
4 garlic cloves, crushed
5 cm fresh ginger, peeled and grated
Soy sauce
1 tbsp vegetable or sunflower oil (for frying)
Your choice of noodles (cooked as per instructions)
(Fresh red chilli pepper – optional, if you want to add a spicy kick!)
Heat a tablespoon of oil in a large frying pan or wok. Add the vegetables and cook over a high heat for 5 minutes, stirring continuously. Add in the garlic, ginger and a dash of soy sauce, then mix through.
Add the noodles to the pan and combine all the ingredients together. Serve immediately and enjoy!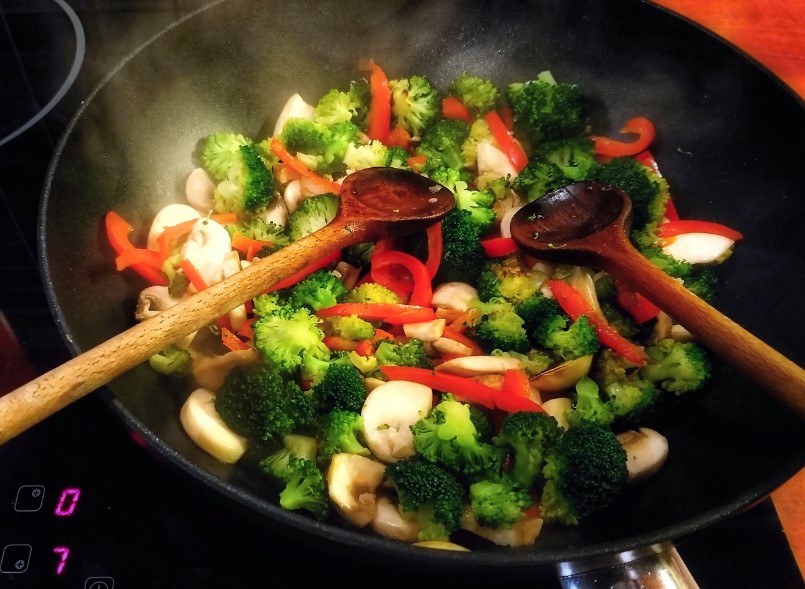 Rhubarb and ginger crumble (serves 6-8)
The pretty pink rhubarb stems are an absolute taste sensation – adjust the amount of sugar according to how much sharpness you like.
For the filling:
900g Rhubarb
3oz soft brown sugar
1 tsp ground ginger
For the crumble topping:
8oz plain flour
3oz butter
3-4oz soft brown sugar according to taste
A small handful of oats
Preheat the oven to 180 degrees C. Cut the rhubarb into chunks and put them in a medium saucepan along with the sugar and ginger. Place a lid on the pan and cook over a low heat for 15 minutes until chunky (but not mushy). Drain off half the juice, then spoon into a pie dish.
Put the flour into a large bowl then add the butter and rub it into the flour with your fingertips. When it looks like breadcrumbs, add the sugar and oats and stir through until it's evenly mixed.
Sprinkle the crumble topping over the rhubarb in the pie dish, taking care not to press it down. Bake in the oven for 30-40 minutes and serve while hot. Delicious with custard, cream, or ice-cream (but, surely, not all three?!)