Working in the Woods
This week Sophie, our Marketing and Communications Apprentice, has been helping the Engagement Team with some educational visits to the woods…
"I'm working towards a Level 4 qualification in digital marketing and am usually based in the office, putting together our regular e-newsletters and supporting our other communication platforms such as our website and social media channels. This week I had a rare and welcome opportunity to get out on to our lovely site.
"Tuesday was a beautifully sunny autumn day, and I spent the day with Em from our Engagement Team as she delivered a Discover and Play session to a class of Year 1 pupils. We were first introduced to 'Rosie' the owl puppet (a name chosen by the class), and on the way down to the Rookery at the base of the Clumps, the children were looking for things that resembled Rosie's feathers, wings and claws. At the Rookery, we heard the story of King Toad and the group then began to look for King Toad and other woodland creatures and insects using bug pots and ID charts, as well as swinging in hammocks, and buildings dens. After lunch, the group went into the garden where a variety of activities were set up. The children made clay hedgehogs using pine cones, had a great time playing in the mud kitchen (and painting on the walls!) and making apple bird feeders. Before the group left, we heard a story around the fire circle, and they made a sticky leaf sheet to take home with them.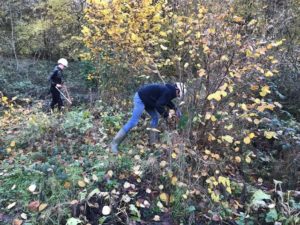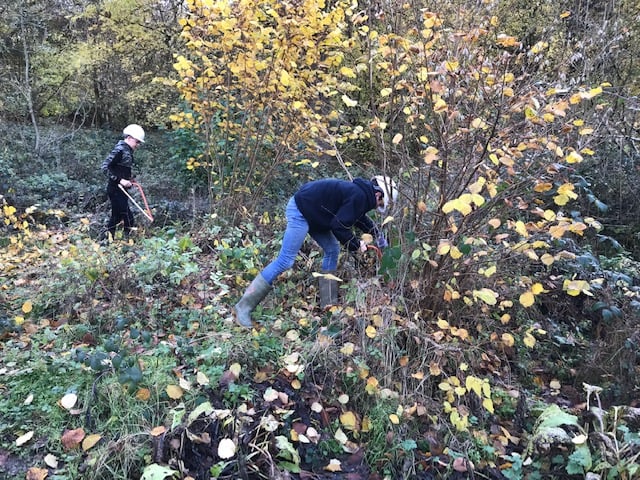 "On Thursday afternoon, I joined our Countryside Skills Coordinator Hollie and a small group of Year 10 students in Little Wittenham Wood for some coppicing. This group enjoy both practical hands-on learning as well as being in the outdoors (some wanting careers in countryside management), and were all very enthusiastic and got stuck in. Having never coppiced before, it was great to see the process of coppicing including the sawing and stripping of stakes and binders.
"This was a very different experience from my usual work day in the office, and it was fantastic to see other aspects of the Trust's work, as well as seeing the groups engaging with our green spaces."
Find out more about our education programmes.