Yellow Wagtail Partnership
The Yellow Wagtail was a familiar bird of wet pastureland 60 years ago. It is strongly associated with grazing cattle and still breeds in Oxfordshire but in tiny numbers. What happened and can we get them back? These are two of the key questions that the Yellow Wagtail research project is asking.  
A migrant species, the Yellow Wagtail forages on small insects, in the muddy edges of streams, ditches and pools. Changes in farming techniques and other impacts on the landscape has led to habitat and insect declines which has greatly impacted Yellow Wagtail populations. These beautiful, graceful birds are now a red-listed species of conservation concern. 
What we're doing
Launched in September 2020 by patron Dr Robin Buxton and led by Wild Oxfordshire, the Yellow Wagtail Partnership is working with partners  Earth Trust  Church Farm Partnership and Lower Farm, to learn and communicate as much as possible about the impact of different land management techniques both on this species and the wider environment.  
Earth Trust, Church Farm Partnership, and Lower Farm, collectively own a four mile stretch of one bank of River Thames. This includes a number of riparian meadows (adjacent to grasslands, arable and woodland/scrub) and the Earth Trust's newly created River of Life II wetlands where newly created scrapes are attracting wetland birds and insects. 
Low input cattle grazing is undertaken across these areas by Earth Trust tenant and NFU member Emma Blomfield, an award winning meat producer,  committed to the welfare of their cattle and sheep, as well as to the health of the habitats they are helping to manage.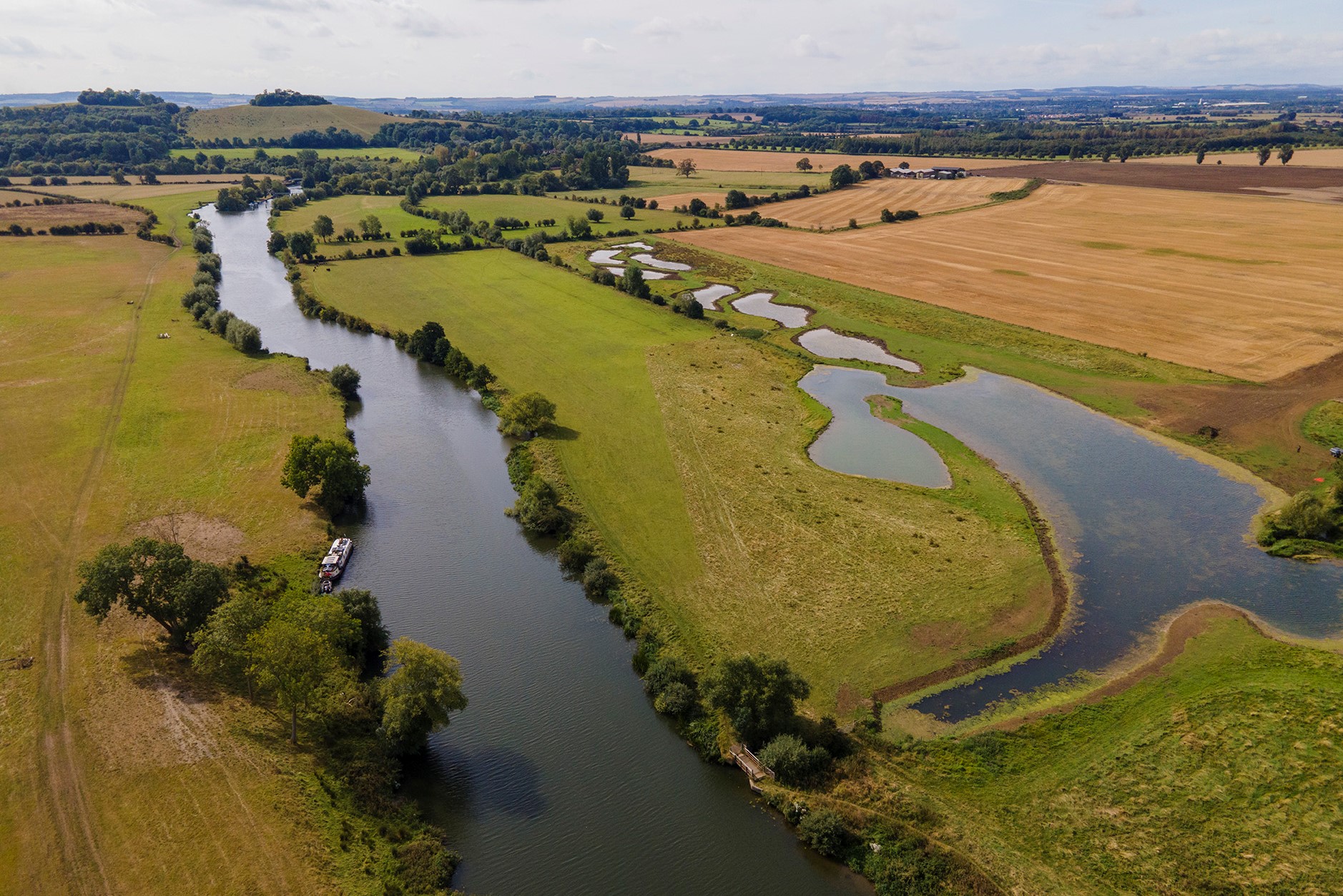 Impact
The initiative aims to improve the fortunes of the yellow wagtail as well as many other species of birds  – supporting local populations by increasing food sources, and providing important insights for other land owners on the impact of creating optimum wet meadow habitats that could help restore it as breeding bird to its traditional haunts in the county. 
Wild Oxfordshire's project office, Sophie Cunnington explains:  "These wetlands and meadows change throughout the seasons. In the winter they can be so wet and a lot of land is flooded. While in summer, they are alive with flowers and invertebrates.  
However, the Yellow Wagtail Partnership is not just about restoring these four miles of meadows and pastures for the Yellow Wagtail. The project also aims to demonstrate how grasslands can be farmed using holistic practices that benefit nature, communities and farming businesses, and aims to be part of new ground breaking research in this field by providing a field site for researchers and students." 
 "Earth Trust is delighted to be part of this project which is providing important information on the impact that restoring wetland habitats might have on a particularly significant indicator species.  Our aim is to manage natural green spaces for the benefit of biodiversity, climate and health, so understanding how our land is supporting better biodiversity is vitally important to us". 
Ian Nutt, Earth Trust Director of Programmes and Partnerships
About the Yellow Wagtail
The yellow wagtail (Motacilla flava flavissima) is a small, yellow and green bird, with a medium-length tail and slender black legs. It spends much time walking or running on the ground. As its name implies, it wags its tail from time to time.
It is a summer visitor, migrating to winter in Africa. Yellow Wagtail populations in have been  declining rapidly since the early 1980s and became a red-listed species of conservation concern in 2009. 
Traditionally the Yellow Wagtail was considered a bird of wet meadows and pastures and was frequently seen foraging around the feet of cattle for insects like beetles and flies. Sights like this are still common throughout the summer in countries in Eastern Europe where agriculture is less intensive, however due to recent changes in agricultural practices in the UK, this species is now more commonly seen to nest in crops. Although it is not uncommon for flocks of up to 30 birds to congregate around the cattle in our meadows just before they migrate back to West Africa for the Winter.