New to Nature
Earth Trust is proud to be among the first wave of host organisations offering a role for the National Lottery funded New to Nature programme.
At least 70 new work placements in nature and landscape organisations across the UK are being offered to young people aged 18-25 as part of the initiative which aims to increase diversity and enrich the sector.
The focus will be on attracting young and diverse talent from communities currently under represented in environmental roles, specifically young people who are from ethnically diverse backgrounds, have a disability or are economically disadvantaged.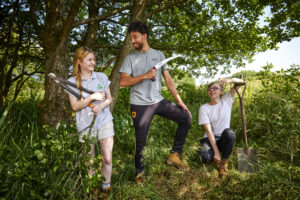 The New to Nature programme aims to provide life-changing experiences for young people who are disadvantaged in the labour market, whilst building capacity in the environmental sector, making it more inclusive and diverse.
Funded by the National Lottery Heritage Fund as part of the celebrations to mark the Queen's platinum jubilee, the programme will run from April 2023 to May 2024 and provide paid, full-time work placements for young people from diverse backgrounds to undertake a range of environmental roles.
New to Nature is delivered through a partnership of Groundwork, The Prince's Trust, Disability Rights UK and Mission Diverse, working closely with the Youth Environmental Service to ensure the programme acts as a stepping stone for a longer-term journey of change in the sector.

The New to Nature campaign is such an important initiative. It has given young people from different backgrounds the opportunity to pursue a 'green career', utilising their own unique experiences and skills to great effect. Where young people are often overlooked due to a lack of experience and relevant education, the New to Nature initiative has allowed young people to prove that they belong at the centre of environmental issues and that given the chance, they can bring different perspectives and skills that haven't previously been used.
Hugh Hedgecock