UPDATE: Temporary closure of meadow at Neptune Wood
Updated notice: 16/7/2020
We hope you've been able to enjoy the meadow over the last few weeks, however it's important that we now allow the meadow to be grazed. The meadow will therefore be closed for about four weeks from 31st July to allow our sheep to graze safely. The footpaths through Neptune Wood and the walk to and around Broad Arboretum are all still open. Thank you for your understanding.–
——-
Updated notice: 03/06/2020
We're seeing an unprecedented demand for access to our green spaces at the moment, including the wildflower meadow adjacent to Neptune Wood. To help with this, we've decided to forgo this year's hay cut so that the permissive footpaths through the meadow can remain open for a little longer. We'll still need to manage the meadow to enable wildflowers to thrive, but instead we'll graze it which will allow us to keep the footpaths open until mid-July. We hope this will help everyone looking to explore more green spaces and connect with nature at this time.
———
Previous statement:
We will be temporarily closing the wildflower meadow, which is accessed from Neptune Wood, to the public on 1st June.
The meadow provides a great habitat for local wildlife and a much loved dog walking area. It also provides the Earth Trust farm with hay, which we harvest roughly once every three years to maintain the populations of wildflowers. Unfortunately, many dog walkers do not clean up after their dogs which means there is a high risk of the hay being contaminated. Dog faeces can cause serious diseases in sheep and we need to remove this risk.
Although we know this problem is avoidable, the only way we can guarantee that our hay is uncontaminated is to temporarily close the meadow to the public. This measure prevents further contamination and allows for existing dog mess to decompose before we harvest the hay.
The permissive path through wildflower meadow (marked in red below) will be temporarily closed to the public on the 1st June and will remain closed until the harvested hay bales are removed in late July/early August, depending on the weather.
The footpaths through Neptune Wood and between the wood and the Earth Trust Centre remain open, please follow the path marked in blue.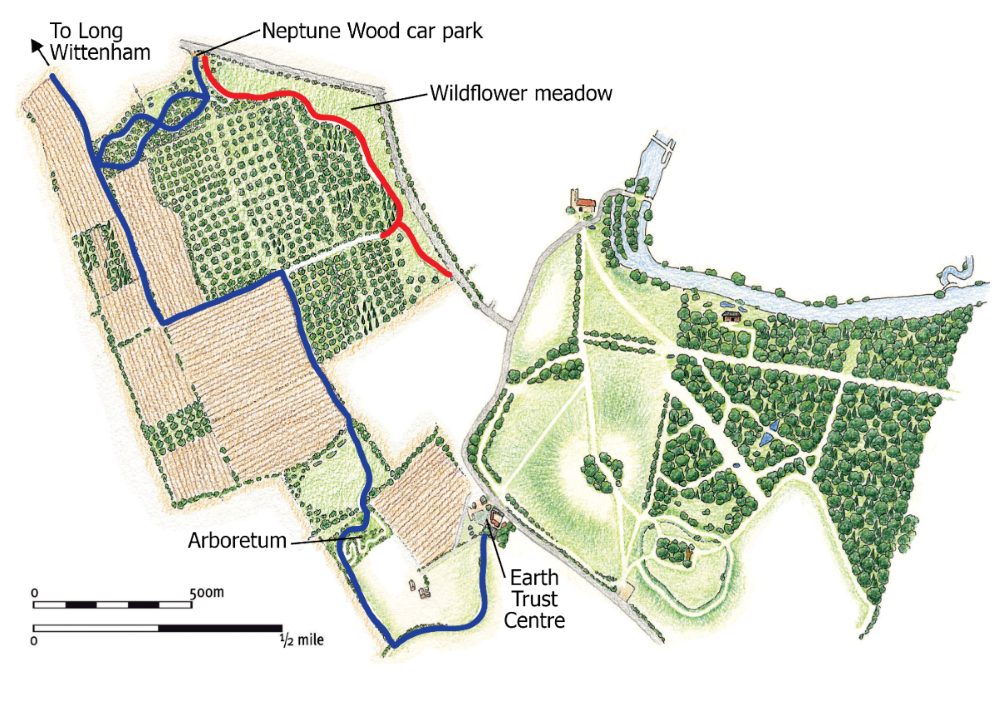 We apologise for any inconvenience and thank you for your support.