Archaeology Watch
In October 2018 we welcomed almost 400 people to the Earth Trust Centre, giving them the opportunity to experience hands-on archaeology!
Earth Trust has exciting plans to improve our visitors' experience starting with the creation of a new skills and learning centre. This innovative education centre will enable us to further develop our education programmes and showcase the ancient history of this special place. However, before we can start to build, we needed to dig down and reveal the historical secrets under our feet! Nestled at the foot of an Iron Age hill fort (Castle Hill), the Earth Trust Centre is steeped in history. Previous archaeological excavations here have unearthed a Bronze Age burial, Iron Age roundhouses and evidence of a Roman villa.
This autumn we partnered with DigVentures to give the public and 179 local school children the opportunity to gain a unique insight into our rich history.
Their trash, our treasure!
Within the first 24 hours of careful digging there was an excited buzz on site! Informed by aerial photographs and geophysical clues, the DigVentures team began excavating an ancient pit, revealing almost complete pots, last handled by their owners over 2000 years ago. Head of Fieldwork, Chris Casswell, explained that the pit had been used as a rubbish pit by the community during the Middle Iron Age, sometime between 400 and 100 BC.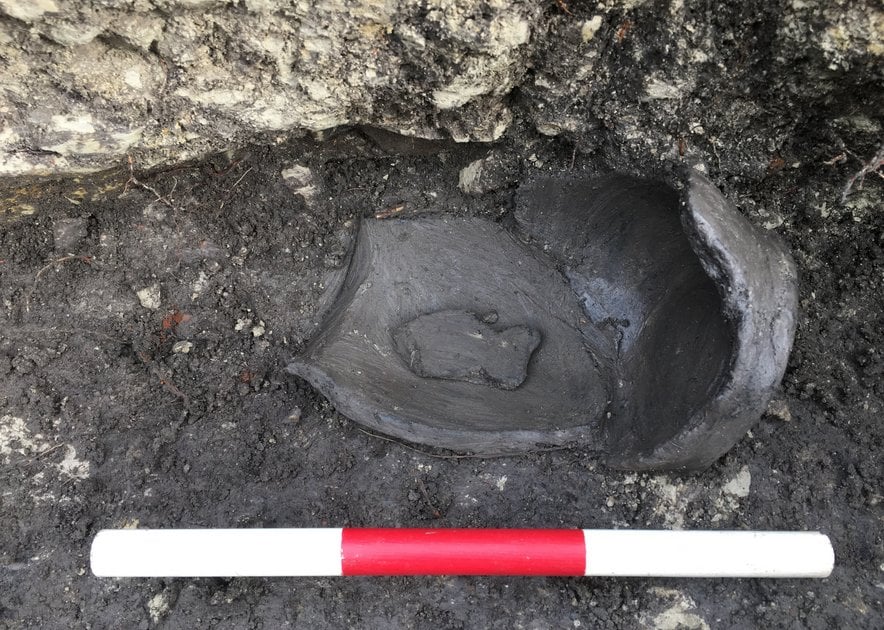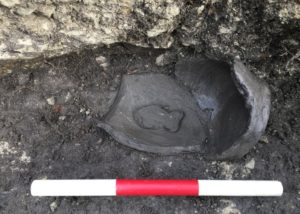 The pots, made of clay, had probably been discarded after repeated use for cooking on an open fire. It is hoped that further analysis will be able to tell us what was stored or cooked in the pots, and give us even more understanding of what everyday life was like in the settlement at the foot of Castle Hill's fort.
A thriving Iron Age community
Other pits in the excavation area revealed underground storage areas. Chris explained that they had originally been up to 2 metres in depth, naturally cool inside and a place where food would have kept fresher for longer. Post markings around the pits suggest that they had once been covered by timber buildings with thatched or grassed roofs and perhaps accessed through a trapdoor.
Smaller finds included various animal bones and grain samples, giving us clues into the diet of the Iron Age community and the landscape and environment at the time. These will now be analysed further.
At the summary Archaeology Evening on 27th October, Chris stressed how similar to us the people of Iron Age Little Wittenham would have been; like us, they kept their household waste outside. Previous digs revealed roundhouses close-by, and the boundary ditches between the rubbish and storage pits suggests an orderly village.
What next? Watch this space!
Having been carefully cleaned, with assistance from the public in the Finds Room, all of the artefacts discovered during the excavation will be catalogued and sent for further analysis. You can follow updates online where DigVentures will be publishing their findings as the project develops!
ITV Meridian News also reported on the excavation: