Little Acorns Christmas Crafts
Come along with your little ones and feel the Christmas cheer at Earth Trust this December!
Nature-based festive crafts
Our Little Acorns session is going festive with some indoor crafts followed by snuggling down with a hot chocolate and sweet treat for story time.
Your child will have the opportunity to get creative making a Christmas tree decoration, a mini wreath and a Christmas card to send to a loved one.
Bookings via  Eventbrite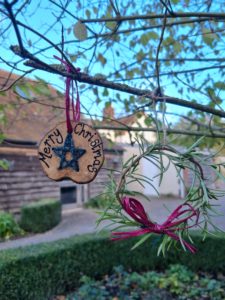 Important information
You are responsible for the safety of your children at all times.
All children must be accompanied by an adult (one adult per max 2 children).
Toilets are available in the car park.
Please bring any refreshments you may need.
Our Session Leader is a trained first aider.
Unlike our usual outdoor Little Acorn events, this one is being held inside and so with limited space we aren't able to offer free places for under twos. You are welcome to bring your small baby if you feel that your child could independently partake in the crafts, which can be a bit fiddly.
We take photographs at the session to help us promote our future events, but just let the session leader know if you would rather not have your child photographed.
If you have any questions, please get in touch with the team via [email protected]