Weekend volunteering in Wallingford
Looking to make a difference? Love being outdoors?
Join our friendly volunteer team and help care for one of South Oxfordshire's vital green spaces, rich in nature and history.
Wallingford Castle Meadows community reserve is a special place for people and wildlife. It's home to important habitats for invertebrates, birds like the little owl, five species of bat, numerous wildflowers and plants, and much more. The reserve was awarded its 16th consecutive Green Flag, and Green Heritage Site accreditation for the 10th year in a row this year, thanks to the efforts of our rangers and land volunteers.
In step with the seasons
Join our Land Management weekend volunteer team every second Saturday in the month and you'll learn new skills, make new friends, and give nature a helping hand. You'll take on seasonal land management tasks to boost biodiversity, from coppicing and scrub clearance, to grassland and meadow scything. No experience necessary. All training, tools and equipment provided.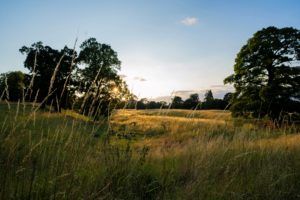 Volunteer Session Details
Location: Wallingford Castle Meadows, OX10 0BY
Time: 10am-1pm
Date: 9th December 2023
Take a look at the volunteer pack to find out more:
Get in touch on 01865 407792 or email us for an informal chat:  [email protected]